Antler Shedding in Bulls and Bucks
The When and Why Explained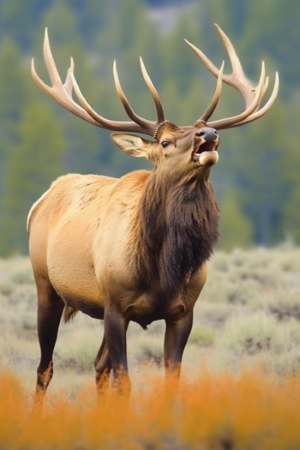 Why Are Antlers So Intriguing?
The natural world is filled with fascinating occurrences and mysterious natural phenomenon.  One such mystery is antler shedding by bulls and bucks ... bull elk and buck deer.  
Whether you're a wildlife enthusiast, a hunter, a collector looking for shed antlers, a researcher delving into animal behavior or a student working on a wildlife project, understanding the process of antler shedding provides an intriguing insight into the biology of these magnificent animals.
If you've ever seen a full-grown bull elk with a massive headset or a buck with a 28"or more spread close up, then you know how thrilling it is to see these animals in their full magnificence.  I know that it has been for me every time I see one. 
In fact, in the hunting world, the size of the antlers dictates whether or not the bull or buck makes it into the record book.  Even photos of these animals make my heart skip a beat.  They are glorious creatures. 
When I used to hunt, just seeing one of the "monsters" was awe-inspiring even if it wasn't always the right one.  So many years, I saw the one I wasn't hunting while I was hunting the other. 
Especially when I used to bow hunt.  They were just smarter than most of us were in their own environment and seemed to know what the date was.
In fact, they did a study at BYU several years ago where they proved that elk moved to private lands from public lands during the elk hunt.  They could be found on public lands before and after the hunt.  I must say that, anecdotally, I have found this to be true.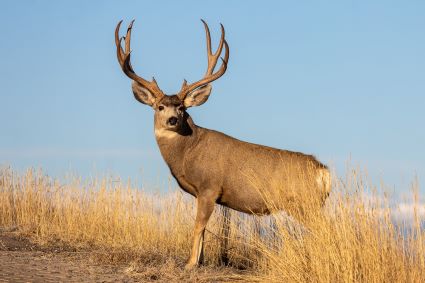 The timing of antler shedding in bulls and bucks varies among different animals and even among individuals.  Generally, bull elk shed their antlers between January and April usually in late winter or just after.  The exact timing can be influenced by various factors such as the bull's age, its health and the harshness of the winter.
Why Do Bulls And Bucks Shed Their Antlers?
But why do bulls shed their antlers?  The primary reason is related to changes in the testosterone levels that occur after the breeding season or rutting period.  As the testosterone levels drop, the pedicle (the area of the skull where the antler grows) weakens leading to the shedding of the antler.

Several factors can influence the timing and rate of bull antler shedding.  These include the bull's nutrition, stress levels and climate conditions.  Bulls in good health able to obtain optimal nutrition are likely to hold onto their antlers longer whereas stressed or malnourished bulls may shed earlier.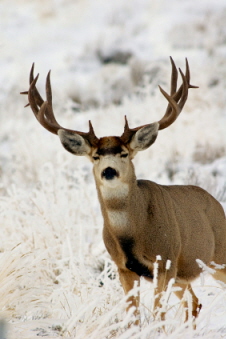 When it comes to buck deer … in the U.S. and Canada, primarily Mule and Whitetail deer … antler shedding typically takes place between late December and February.  Again, this timetable is not set in stone.  A variety of factors can shift this schedule forwards or backwards.

Just like bulls, bucks also shed their antlers due to plummeting testosterone levels after the mating season.  Because the antler is no longer needed for mating competition or attracting females, the body's energy is conserved and redirected to other vital functions such as survival during the winter and preparation for the coming spring.

Buck antler shedding too is influenced by factors similar to those affecting bulls.  A buck's age, overall health, stress levels and environmental factors can all play a role in determining when antler shedding will occur.

While bull elk and buck deer share similarities in the timetables and reasons for antler shedding, there are also differences that arise due to variations in species, geography and individual health.  Naturally, bulls have larger antlers and hence the process of shedding and regrowth takes longer than bucks.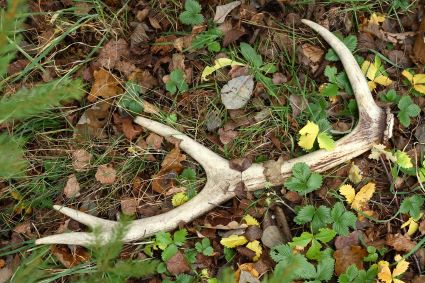 The ecological significance of antler shedding is often overlooked.  Shed antlers are not wasted in nature.  They provide essential nutrients and minerals for smaller animals like rodents and are occasionally used by other animals for various purposes including as scratching posts or playthings.

Antler shedding in bulls and buck also impacts the behavior of these animals.  Post shedding, both bulls and bucks become more elusive and harder to spot as they retreat into seclusion to regrow their antlers.  Believe me as I've experienced it, a bull elk or a buck can be so elusive that you can walk right up to one in thick trees and not even know it is there. 
When the whole forest around you explodes and your heart jumps through your chest, that's when you realize how close you were.  There's no feeling quite like it.  Just be thankful, as I have been, that there are no grizzlies in Utah. 

From a wildlife management perspective, understanding antler shedding and its influencing factors is critical. This knowledge aids in the formulation of hunting quotas and also helps in studying and monitoring animal populations.

For instance, in areas where early antler shedding is observed, interventions can be made to improve the nutritional supplies or habitat conditions.  In contrast, locations where antler holding is extended may be ideal spots for hunter allocations.
The Ethics of Shed Hunting

Antler shedding has also given rise to a unique hunting practice known as shed hunting where enthusiasts collect shed antlers from the wild.  Shed antlers are valuable for decoration, craft projects, dog chews and even cabin décor. 
If you've ever been to Jackson, WY's downtown square, you'll see one of the biggest antler shed collections ever crafted into an arch.  In some areas like Utah and Wyoming, the shed antler business is huge.  There's a lot of money in antlers especially in areas where elk congregate.  See the image above.
In Utah, you can gather shed antlers or horns … or parts of shed antlers or horns … throughout the state but there is one seasonal requirement.  From Feb. 1 to April 15, you must carry an antler-gathering certificate on your person while collecting shed antlers or horns. 
It is issued by the Division of Wildlife Resources.  The course is free and on their website.  Click here to find it:  Free Antler Ethics Course. 

About 20,000 people take the mandatory course each year in order to venture out and hunt for shed antlers in Utah.  After you finish the course, you must print your certificate of completion and carry it with you while you're "shed hunting."
Completing the course is mandatory if you want to gather shed antlers from February through April 15 and the course must be completed each year.  If you wait until after April 15 to gather antlers, you don't need to complete the course.
It is important for shed hunters to follow ethical practices recognizing the potential stress imposed on these animals during their vulnerable post-shed stage.  Winter is hard on them and indiscriminately stomping through their habitat may tip the scale against their survival. 
That is what the DWR course is all about.  Respect for wildlife and the understanding of the delicate balance in nature should always be paramount.

To sum up, "When and Why Do Bull Elk and Buck Deer Shed Their Antlers?" is not just an intriguing question for the curious mind but can aid in a deeper understanding of nature's intricacies.  This process is dictated by an interplay of hormonal change, environmental factors and animal well-being.
Why Are Antlers Covered in Velvet During Spring and Early Summer?
Antlers, for both deer and elk, go through an amazing transformation each year.  The "velvet" stage is a crucial part of this process.
The velvet phase occurs initially in the spring and early summer.  It is characterized by a soft, fuzzy skin covering the antlers.  It provides a roundness to the antler tips. 
This velvet, richly supplied with blood vessels and nerves, serves to nourish and protect the rapidly growing antler tissue beneath. The high metabolic activity during this phase stimulates impressive antler growth.
Elk, for instance, can grow antlers at a rate of up to an inch per day under optimal conditions.  The surge in growth can primarily be attributed to a spike in testosterone and other growth hormones which are influenced by the lengthening daylight hours as winter retreats.
After a period of rapid growth throughout the spring and early summer, the antler development reaches its peak typically by late summer.  At this point, the bone mineralization concludes and the velvet is no longer needed.  The shedding process can be quick and, to some extent, bloody.
It is remarkable to observe a big muley buck in velvet during July and August.  The velvet antlers are visually impressive … at least to me … due to their thickness and roundness.  Mule deer hides also tend to have a more reddish sheen during the summer months than later in the fall.
The males enter the fall rutting (breeding) season after shedding the velvet and polishing their hardened antlers to saber-like points.  They display their new, polished antlers ready for displays of dominance and, if needed, battles against rivals.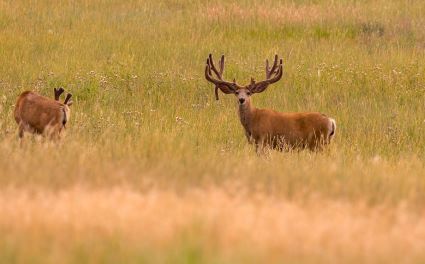 After the breeding season, typically from mid-October to December, the entire antler is shed.  The cycle begins anew with the re-growth of the antlers covered in velvet, perpetuating this remarkable annual event.
The fascinating cycle of growth, shedding and regrowth of antlers showcases the profound beauty of nature's regeneration and the resilience of these imposing creatures.  It is a testament to their strength, fortitude and complex connection to their environment.
Elk, especially, are thriving in Utah and most of the mountain states.  Mule deer are having a much more difficult time adapting to the intrusions … of both people and construction of "vacation and luxury homes" … to their habitat. 

Armed with this knowledge, hunters, wildlife enthusiasts, researchers and students can appreciate bulls and bucks in a new light.  This information is not merely about knowing an interesting fact but about gaining an insight into the life and methods of these animals.

Antler shedding serves as a biological marker painting a picture of the animal's health and vitality.  It can aid wildlife managers and researchers in assessing animal populations and in making informed decisions on conservation strategies.

In the grand scheme of things, every aspect of animal behavior … including antler shedding … contributes to the overall balance of our ecosystems.  Understanding these processes aids in fostering respect for nature and developing a deeper appreciation for the natural world.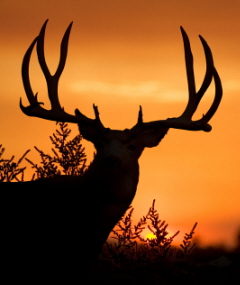 The next time you stumble upon a shed antler while hiking or observe the imposing antlers of a bull elk or a buck deer, remember the extraordinary process that contributes to the cycle of life.  It is a process marked by resilience, rejuvenation and a yearly natural progression.
My wife and I found a medium-sized bleached-out mule deer antler while hiking many years ago.  We still have it on our shelf (pictured below).  There's something about it that keeps us from discarding it.  Maybe it's the fact that something once part of an animal could remain as a solid object for so long after that animal was long gone. 



Respect the life cycles of these beautiful and majestic animals.  Appreciate the massive efforts they make to survive and perpetuate their species.  And recognize their contribution to the ecosystem.  All of this should encourage respect and conservation.
---
Have A Story or Comment About
Antler Shedding?
Do you have a great story or comment about this? Share it!