Exploring Utah's Enchanting
Slot Canyons


What Are Slot Canyons?
Utah's landscape is a tapestry of fascinating geological wonders but none quite capture the imagination like exploring Utah's enchanting slot canyons.  These narrow, deep channels carved into the earth are the result of relentless water erosion.
Their walls often tower hundreds of feet.  Yet, at the base, they can be so tight that you have to squeeze your way through.  What makes them distinct from other canyons is their narrow width … often less than a few feet wide … compared to their depth.
They create meandering corridors with the bedrock turning into a complex maze that offers adventure and solitude in equal measure.  Slot canyons are especially prevalent in Utah.  They alter and add dramatic beauty to the magnificent landscape.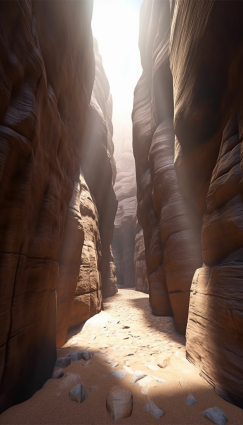 The Allure of Slot Canyons
The most striking aspect of slot canyons is their otherworldly charm.  When you enter one, it feels as if you've stepped into a secret world.
The play of light and shadow dancing off the smoothly sculpted walls creates an ethereal setting that almost defies description.  The canyons offer a sense of intimacy. 
Their narrow passages and vertical walls generate a close, almost protective atmosphere.  To the demise of some who didn't plan ahead.
Many explorers have reported transformative experiences while navigating these narrow labyrinths.  Some talk about the profound silence.  How the rock seems to absorb sound making each step a communion with the earth.
Others speak of spiritual revelations brought on by the play of golden light filtering down into the shadows.  The allure of these canyons is as much emotional as it is visual.
Popular vs. Lesser-Known Slot Canyons
Tourist hot-spots like Antelope Canyon welcome thousands of visitors every year with photographers and adventurers clamoring for that iconic shot.  However … despite the usual attractions … this site likes to focus on the road less traveled. 
How about those lesser-known slot canyons that offer an even more intimate experience.  Exploring these unfamiliar canyons lets you sidestep the crowds, giving you a more solitary, introspective experience with nature.
Discovering Hidden Slot Canyons
Finding these hidden gems can be a bit challenging.  Many are not marked on regular tourist maps and require a bit of detective work.  Utilize resources like topographic maps, local guidebooks or even insights from experienced hikers in the area.
Always remember to obtain the necessary permits and respect local regulations.  These are in place to protect both you and the delicate ecosystems you're entering. 
When venturing into lesser-known canyons, consider hiring a local guide or at least consult with one for safety tips and route suggestions.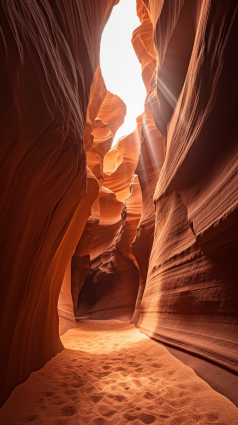 Enigmatic Slot Canyons: A Closer Look
Let's spotlight a couple of less-traveled Utah slot canyons.  First up is "Brimstone Gulch."  Located near the sleepy little town of Escalante, it offers a peaceful alternative to its busier neighbors.  Its narrow passages, streaked with desert varnish, seem to glow in the shifting light.
Another lesser-known beauty is "Blue John Canyon".  It was notoriously identified as the site of Aron Ralston's incredible survival story but is still overlooked by most tourists.  The walls here are a vivid tapestry of colors capturing both the eye and the imagination.  Navigating through these canyons feels like unraveling an ancient secret written in the language of wind, water, and stone.
Safety Precautions and Considerations
While the appeal of slot canyons is undeniable, they can be incredibly hazardous environments.  Read the Ralston story for example.  Flash floods are a real danger and the remoteness of many canyons means that help is far away.
Ensure you have adequate water, appropriate clothing and reliable communication equipment.  Stay updated on weather forecasts and always let someone know your itinerary including when you plan to return.
Responsibly Exploring Utah's Enchanting Slot Canyons
Preserving the innate beauty of these canyons is everyone's responsibility.  Adhere to "Leave No Trace" principles.  Pack out everything you bring in.  Stick to established trails. 
Absolutely do not deface the rock formations.  The ecology of these areas is fragile and it takes hundreds of years for the environment to recover from human-induced damages.  If it ever does.
Capturing the Beauty:  Photography Tips
Slot canyons offer unique photography opportunities but they're also challenging due to the high contrast between bright and shadowed areas.  Use a tripod for stability if you can carry one in.
Consider bracketing your shots to capture both highlights and shadows effectively.   Experiment with long exposures to capture the delicate interplay of light and form.
The Magic of Exploring Utah's Slot Canyons
Beyond their aesthetic and geological fascination, slot canyons have a way of touching the soul.  Many explorers describe a sense of reverence and awe as they navigate these narrow corridors. 
Each turn seems to reveal another breathtaking vista or intriguing rock formation.  The quiet solitude allows for a deeper connection with nature turning each excursion into not just a physical journey but also a spiritual odyssey.
In conclusion, Utah's slot canyons are more than just geological oddities.  They are portals into the very essence of the earth. 
Carved open by the hands of time and weather.  They invite us not only to explore their hidden depths but also to discover something about ourselves.
Whether you're squeezing through the narrowest passage or standing in a chamber of echoes, a journey through these mysterious landscapes is a journey inward.  A moment of communion with the ancient and the eternal.
So, as you consider your next adventure, consider stepping off the beaten path and losing yourself in the mystical world of Utah's slot canyons.  You never know what you might find.
---
Have A Great Story About
Utah's Slot Canyons?
Do you have a great story about Utah's slot canyons? Share it!