Gardner Village

Salt Lake City
What Is Gardner Village?
Gardner Village in West Jordan, Utah is a historic site that has been transformed into a shopping, dining and event destination.  The village features locally-owned shops that sell furniture, antiques, clothing and other unique items.
It also hosts various events throughout the year including popular Halloween and Christmas events.  The village is named after Archibald Gardner, a Scottish immigrant and miller, who built the site's flour mill in 1853.
The shops are housed in beautifully restored historic buildings.  It is one of the most unique shopping destinations in Utah.  Currently made up of 17 small shops, it also includes 5 eating places although they also bring in several food trucks at various times. 
Of course, the number of shops and eating establishments are always subject to change as businesses come and go.  Most of the historic buildings have been moved to the Village.  This is one of the top shopping destinations in Utah for a lot of people.
The attractively renovated and refurbished buildings house delightful shops, appetizing restaurants and plentiful diversions.  These include some unique boutiques, stylish home decor shops as well as antiques and collectibles stores.
The shops ooze with character.  It is an especially fun place to visit if you can make it for one of the holidays or seasonal celebrations.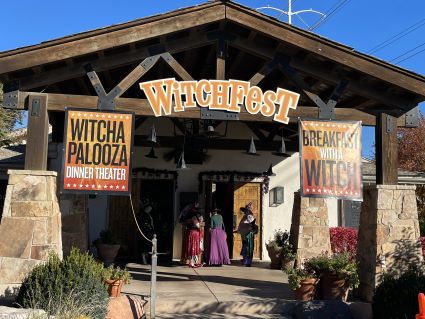 Christmas and Halloween are special times to visit Gardner Village.  If you like browsing, this is the place for you.  Shops and activities include:
furniture
art
jewelry
crafts
toys
clothing
a restaurant
a baker
and pony rides
It is open year-round.
Location and Hours
Gardner Village is located at 1100 West 7800 South, West Jordan, Utah.  It is a relatively short drive from downtown Salt Lake City and has an enchanting vibe with its historic buildings and rustic surroundings.
Gardner Village is currently open 10:00 A.M. until 6:00 P.M. Monday thru Thursday and 10:00 A.M. to 7:00 P.M. on Friday and Saturday.  These hours change for WitchFest and Witches Night Out when it is open 10:00 A.M. thru 8:00 P.M. Monday thru Saturday. 
As usual, these hours are always subject to change.  Some businesses within the village may vary their hours so make sure you confirm the specific operating hours of attractions or shops ahead of your visit.
History of Gardner Village

This site has quite a bit of history associated with it.  In 1853, Archibald Gardner lived here along with his 11 wives and 47 children.  He built a water-powered sawmill on the property … Gardner Mill … which later became a flour mill.
The nearby West Jordan Canal, along with other irrigation canals, was also developed by Archibald Gardner.  Utah's first commercial water rights were issued to Gardner and his West Jordan Mill.
Reviews and Parking
Food enthusiasts will appreciate the village's offer of charming restaurants like Archibald's Restaurant which serves savory dishes.  Or the sweet indulgences available at Happy Camper Deli and Bakery.
Finding reviews on Gardner Village Salt Lake City is relatively easy as many visitors leave enthusiastic feedback about their enjoyable experiences.  The friendly atmosphere, splendid shopping, enticing restaurants and engaging events consistently earn impressive reviews across various platforms.

Planning a trip to this charming village is made convenient by ample parking spaces available for all visitors.  Parking is free Monday to Thursday but will cost you $7.00 on busier Fridays and Saturdays.  It also boasts excellent wheelchair accessibility catering to every individual's needs to ensure a memorable and comfortable visit.

Gardner Village Events
Throughout the year, Gardner Village hosts several events and activities that further enhance its charm.  Two of the most popular, however, would be the Gardner Village WitchFest and Witches Night Out (basically the same event).

Gardner Village WitchFest is a sight to behold, where cackling witches take over the village with their spellbinding performances and witch-themed activities.   Visitors … of all sizes … dress up in their finest witchy costumes and wander about the premises.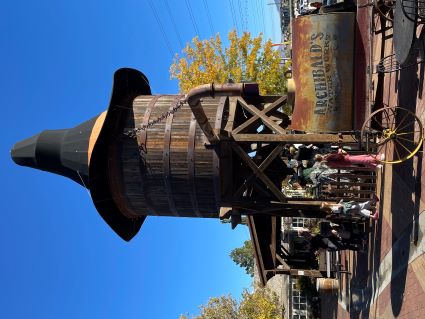 It has evolved to be a much-loved traditional event attracting both locals and visitors year after year.  It is held, in 2023, from Friday September 22 thru Tuesday October 31.

On the other hand, Gardner Village Witches Night Out has established its place as a beloved alternative celebration for women to enjoy.  When this event first started, the Utah deer hunt used to be a huge state-wide event sending thousands of men into the mountains.  This often left many of the women behind.
I remember my wife telling me that she knew of many women who attend this event when their husbands and boyfriends went hunting.  It has now evolved into being held on four consecutive Saturdays leading up to Halloween. 
From 4:00 – 9:00 P.M., the event indulges women with fun-filled experiences providing an excellent excuse for a girls' night out.

The family-friendly environment of Gardner Village makes it a delightful destination for family-friendly outings.  Children will enjoy attractions like the Petting Zoo while adults are sure to relish the unique shopping and dining options available.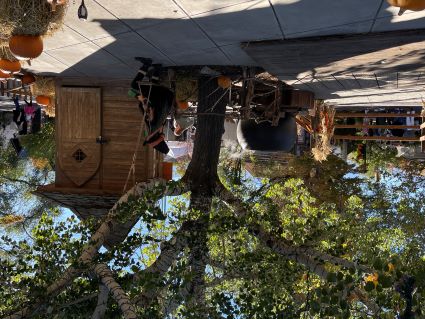 What To Expect
For those seeking to avoid the crowds and parking challenges, weekdays are always less hectic, especially in the mornings.  Even so, we got there at 10:15 A.M on the Friday two weeks before Halloween and the parking lot was almost full.  Of course, they hadn't opened the overflow lot yet so there is ample parking
Gardner Village strives to retain its historic charm while providing a variety of sights and activities through its unique shops, tasty food offerings and lively events.  It seems like they try to give visitors something to remember the place by.

Every corner of the village seemingly conceals something waiting to be discovered. Gardner Village is where shopping meets fun and history combines with entertainment.  All delivered in a unique, rustic package.  It is hard to find places like this in today's world of ugly architecture and square unimaginative buildings.

The village also hosts special events like photography workshops and craft fairs.  You can even enjoy fairy hunts with your little ones or participate in an outdoor yoga session ensuring there's something for everyone.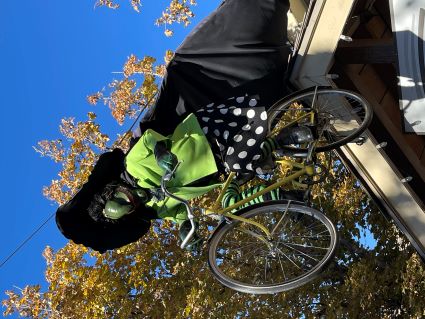 Widely recognized for its incomparable appeal, Gardner Village is not just another local attraction.  Rather, it is a Salt Lake City landmark infused with history and resplendent with old-world charm.  Almost like an old English or European village. 

Christmas in The Village
Gardner Village transforms into a winter wonderland during their annual "Christmas in The Village" celebration.  This enchanting event runs throughout the holiday season from late November through December.  It has become a yearly tradition for some. 
The historic village, with its quaint brick buildings and cobblestone paths, takes on a magical aura as it is adorned with twinkling lights, festive decorations and a palpable sense of holiday spirit.
One of the main attractions of Christmas in The Village is the stunning display of thousands of Christmas lights that illuminate the entire area.  Visitors can take leisurely strolls along the streets enjoying the colorful displays and taking in the delightful holiday vibe. 
Gardner Village also hosts a wide range of seasonal activities and events for the whole family during this celebration.  Children can have their photos taken with Santa Claus.  Adults can indulge in some holiday shopping at the village's unique boutiques which offer handcrafted gifts, home décor and holiday treats.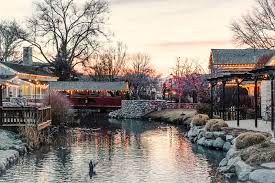 Special workshops and crafting sessions are often organized allowing attendees to create their own personalized holiday ornaments and gifts.  For those seeking culinary delights, the on-site dining establishments serve up delicious holiday-themed meals and treats.
Overall, Christmas in The Village at West Jordan's Gardner Village is an uplifting celebration that encourages visitors to revel in the magic of the holiday season. 
Beyond its historic charm and fascinating architecture, Gardner Village certainly doesn't lack in fun and entertainment.  The numerous yearly events act as a magnet for visitors. 
They offer unique opportunities to hang out, shop and interact in a safe environment while enjoying the scenic and vibrant surroundings.  To put it succinctly, Gardner Village exceeds most expectations.  It did mine. 
We have been there for the Saturday Farmer's Market.  That is a wonderful experience although you have to get there early.  The produce doesn't last long.  At least it didn't the day we went. 
Even though visited by thousands every year, consider Gardner Village one of Salt Lake City's "hidden" gems.  It offers an escape from city life while satisfying a little of your curiosity about Utah's pioneering history.
With the indulgence of unique shopping, several dining options and enjoyable events, you've got a must-visit destination right at your fingertips.

Ensuring a lively yet relaxed visit, Gardner Village maintains a charming and friendly vibe that easily engages every visitor.  Challenge the ordinary and immerse yourself in the nostalgic environment of this "village." 
Take your experience further by exploring it during the WitchFest or on a Witch's Night Out.  Despite there being specific nights for the gathering of witches, they're everywhere during the weeks leading up to Halloween. 
I recommend at least one visit to Gardner Village even if you don't like witches.
1100 West 7800 South
West Jordan, UT
801-566-8903
http://www.gardnervillage.com/
---