Thistle Utah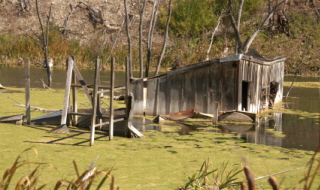 The tiny town of Thistle Utah is now known not so much for what is once was, but for what happened to it. And what it looks like now.
Ranchers and farmers have occupied the Thistle Valley … in Utah county's Spanish Fork Canyon … for well over 125 years. The railroad built a siding there in 1883-1884.
In 1890, the railroad built a branch line … starting at Thistle … down to the Sanpete Valley Railroad at Manti. And then on to the mine loading ramps at Marysvale
But why the name Thistle? Because the valley was full of Canada thistles.
The town quickly grew into a typical railroad town. Hard to believe looking at it now but the town had railroad yards, loading ramps, and coal and water towers.
Homes, stores, a church, and a school were all built in the town. And … in 1913 … a roundhouse was built to prepare locomotives … helper locomotives … on the long steep pull up Soldier Summit.
But … causing the demise of so many of these towns … the railroad industry modernized. Diesel locomotives were introduced. Operations were streamlined.
Empty buildings were torn down. And the work force drifted away. The town simply shriveled up and almost died.
Prior to 1983, when I first came to Utah, my wife and I would drive right through Thistle on the way to a farm her dad owned in Indianola. I remember a few families living there. A few cars and trucks. Smoke coming from a couple of the chimneys.
There was an abandoned schoolhouse. And the remnants of a service station. Some interesting-looking old homes.
But then the massive floods in the spring of 1983 hit Utah. In April, melting snow from an especially heavy winter caused unprecedented flooding throughout the state.
The mountain on U.S. 6 in Spanish Fork Canyon … yes, the mountain … started moving 5 inches an hour!
By April 17, the last of Thistle's 22 families were evacuated from their homes. The sliding mud had dammed up Spanish Fork River causing the water to back up behind it. The town of Thistle Utah almost disappeared under the waters with water reaching the rooftops.
The flooding formed a lake … dubbed Lake Thistle by the work crews. The lake eventually subsided but the entire mountain had moved! And was continuing to move. At the rate of 1 to 2 feet per hour.
Eventually, the highway was rebuilt taking traffic up the side of the mountain well above the valley below. That road takes you down the other side.
And … as you turn south and drive through Thistle Utah now … all that remains are a few rooftops, poles, and trees sticking out of the green, stagnant water.
The road was rebuilt right at the new level. Where once you drove right through the town between the houses, you now drive at rooftop level.



Back to top 

Back to Ghost Towns in Utah

Back to Home Page