Frary Peak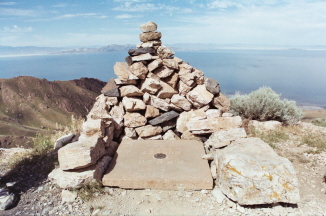 Frary Peak Hike
Antelope Island State Park is the largest island in the Great Salt Lake.  Covering 28,463 acres, the island is 15 miles (24 km) long and 7 miles (11 km) wide at its widest point.
This hike takes you up to the top of the highest point on Antelope Island.  When you drive anywhere within view of Antelope Island ... pretty much anywhere from Salt Lake City to north of Ogden and west past Grantsville ... you can simply point to the top of Antelope Island and say "I hiked to the top of that."
That's kind of cool.

Wildlife viewing opportunities abound in the park with a herd of 600 bison, deer, coyotes and antelope. The many backcountry trails provide fantastic opportunities for wildlife sightings.
Make sure you bring a lot of water, insect repellent and a hat.  And use a lot of sunscreen because there is no shade on this hike!   I've hiked this one during on an early mid-summer day.  You can't carry too much water!
This would be an excellent fall hike as the day-time temperatures are much more pleasant than when we went.
Round trip is 6.8 miles (10.9 km).
It took me, my wife and two of my daughters 4 ½ hours for the entire hike.
This is a hard hike!   I've seen it rated as moderate.  We did it on a late-June morning and it was more than moderate.  And my wife and I are in real good shape.   She had just run a Ragnar.
The elevation gain is 2,050 feet.
Dogs aren't allowed.
There are no trailhead restrooms.
The parking lot gate closes at 7 p.m.
There's a $9 fee.
The trail is closed from early April through early June due to the bighorn sheep lambing season.
We saw two bighorn sheep coming up the trail towards us as we were hiking down.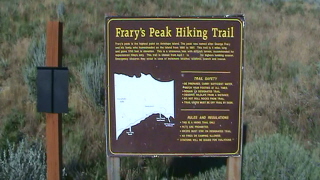 You start this hike almost immediately upon leaving the parking lot.  And ... as we learned from the sign ... the name is actually Frary's Peak. 

The trail starts straight up right away.  Up a grassy hillside.  As I said above, there is little or no shade on this hike so come prepared.
There are parts of this hike near the top where the trail is carved into the mountainside.  Nothing but two-by-eights secured by two pieces of rebar as steps. There are steep drop-offs.
Watch out for the wandering bison.  We saw several but didn't get real close to one.  They can be extremely dangerous as now-deceased mountain biker found out when cycling the island a couple years ago.

I took all three of these photos while we were up there.  The 360º views from the top of Frary Peak will take your breath away.  As will the journey.
---
Have A Great Story About
Hiking in Utah?
Do you have a great story about any of these hikes? Share it!