Goblin Valley State Park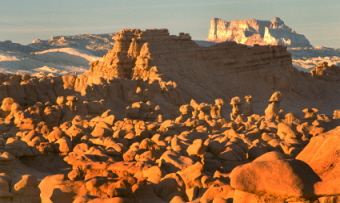 Located in Utah's famous Castle Country, Goblin Valley State Park is one of the more aptly named places on the planet. 
The elements have sculpted a magical wonderland of "goblins" out of the existing rock.  An outdoor playground offering unlimited walking, exploring, and hiking.

It's a fascinating and beautiful place. The nearby San Rafael Reef and Henry Mountains are spectacular in themselves. Goblin Valley - and the surrounding area - is a photographer's paradise.
A fantastic area to spend some time exploring and living life. Near the park, you'll find Native American rock art. And the residue left by early prospectors and miners.
If you're an avid hiker, there are some dynamite slot canyons to explore. ATV's aren't allowed in the park itself but there are some fantastic routes for riders and bikers outside the park. And in the public lands west of the park, you'll also find backpacking and horseback riding.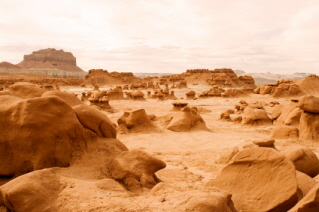 A Little History
Goblin Valley is in a secluded area. So it wasn't discovered until some cowboys stumbled upon it looking for cattle. In the late 1920's, the owner of the Hite Ferry on the Colorado River – Arthur Chaffin – and two colleagues were exploring the area for alternate routes.
Discovering a vantage point just west of what is now Goblin Valley, they were blown away by what they saw. A valley of rock formations in alien shapes. And five buttes. All enclosed by weather-sculpted cliffs.
Many years later - in 1949 - Chaffin returned to the area. He called it Mushroom Valley. This time, he explored this wondrous valley in detail. Taking many photographs of the numerous goblins created by centuries of nature's handiwork.
Despite its boondocks' location, the ensuing publicity initiated the inevitable onslaught of inquisitive visitors. And so, in 1954, it was recommended that Goblin Valley be preserved to protect it from the stupidity and disregard of humans.
The state of Utah bought the property and set up Goblin Valley State Reserve. And in August of 1964, it was officially designated Goblin Valley State Park.




Can You Stay Here?
Goblin Valley State Park is a small park. Just over 3 ½ acres. With a 25-unit campground. RVs and motor homes are welcome. Roads through the park are paved. And there are modern rest rooms, hot showers, and a sanitary dump station. All of the campsites have a picnic table, a paved parking pad, and a barbecue grill.


Goblin Valley Hiking
There's a great hike near Goblin Valley State Park. The Little Wild Horse/Bell Canyon loop. You'll find the trailhead 5 miles (8 km) from Goblin Valley. Down a dirt road. This is a slot canyon and is one of the most famous in Utah. If you love to hike, it's well worth a day hike.
The narrows are shoulder-width in some points. Long, narrow, and almost claustrophobic. There's a parking area. An outhouse. Bring your own water. There is no water here.
The one thing to remember about slot canyons. If there is any chance of rain, forget it. Flash flood danger is absolutely imminent. Don't even attempt it if there is a chance of rain!


Fees and Hours
The Visitor Center is open every day from 8 a.m. to 5 p.m. From November to February, though, it may be closed occasionally due to staffing limitations.
Day visits: $7 day-use.
No holiday closures.
Overnight camping in the main campground is $16.
Group overnight camping is $3 per person. For groups from 25 – 35. With a maximum of 8 vehicles or 4 RVs.
P.O. Box 637
Green River, Utah 84525
435-564-3633


                         Map of Goblin Valley State Park



Back to top

Back to Utah State Parks

Back to Home Page