Kolob Fingers Road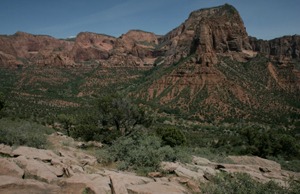 The Kolob Fingers Road Scenic Byway is a short but … nonetheless … fantastic drive just a few miles south of Cedar City off I-15.  It offers the best view available of the "red finger" canyons of the Kolob in southern Utah.

It's a twisting scenic drive with a number of switch-backs that … although only 5 miles (8.33 km) long … climbs 1000 feet.  There's a nice picnic area and scenic lookout at the top.  And you'll find a visitor center at the entrance.

The red-rock canyons are narrow and jagged.  This area is part of Zion National Park so there is an entrance fee.  But if you've already entered the park, you can use your pass here.

It's easy to miss and easy to bypass as you're doing 80 mph on I-15.  But it offers some spectacular scenery and really takes only a few minutes to drive up and back. 

There are also some real nice hiking trails leading off from the byway.  Although it probably isn't worth taking a long drive just to see, it's well worth the time if you're already in the area.  Or passing by.

To get to the byway, drive 18 miles south of Cedar City on I-15.   Take exit 40.