Silver Lake Utah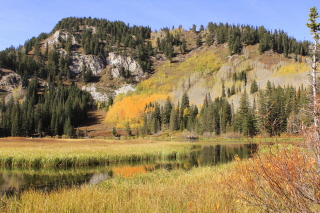 Silver Lake Utah is a beautiful little lake at the top of Big Cottonwood Canyon in the Wasatch Mountains east of Salt Lake City . It is accessible to all … including the young, the elderly, and those with disabilities. Just a stone's throw from Brighton Ski Resort.
So is it really named Silver Lake Utah?  No, of course not.  But if I don't add Utah in the title and throughout this article, the search engines can't differentiate between this Silver Lake and hundreds of others.

It's a great spot for a scenic hike in the spring, summer, or fall. And … in the winter … cross-country skiers enjoy it as part of the Solitude Nordic Center system of trails.
The hike around … and through … the lake is an easy one. Less than a mile long on a sturdy boardwalk. You'll find picnic tables at various places around the lake. And many interpretive signs along the way.
Take your time on this hike. Enjoy the scenery. It's a fantastic … and peaceful … place in the fall when the leaves are changing color. My favorite time up here.
The lake is well stocked with fish. You'll need a Utah fishing license to drop a line though. Take insect repellant during the summer. The mosquitoes can be quite annoying. We forgot to take some one summer evening and didn't last long on the boardwalk.
Big Cottonwood Canyon is part of the Salt Lake City Watershed. Domestic animals … dogs, cats, and horses … aren't allowed in the canyon.
To get to the entrance of the byway, take I-215 to the 6200 South/Canyons exit southeast of Salt Lake City. You'll see the signs.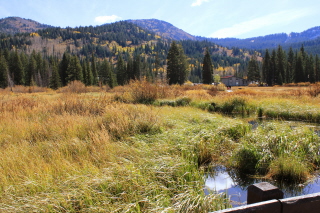 The Silver Lake Trailhead is 14.2 miles up Big Cottonwood Canyon. There's a visitor center. A large paved parking lot. Restrooms. And an information kiosk. And … of course … Brighton Ski Resort is right next door.
This area also gives you access to the Granite Lakes and Lake Solitude Trails if you feel more adventurous.



Back to top 

Back to Big Cottonwood Canyon

Back to Home Page