Travel In Utah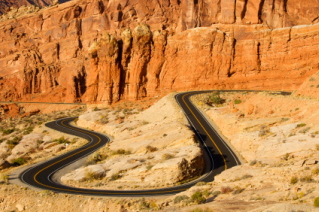 Travel in Utah is something residents often take for granted.  Utah's transportation infrastructure includes some of the most heavily travelled and best-maintained highways in the country.

More than 43,542 miles of federal, state, and local roads and highways make travel in Utah a relatively uncomplicated affair.
Everything you read about on this site is accessible by vehicle (although it might have to be four-wheel drive).
Interstate 80 runs east and west right through Salt Lake City . All the way from the east coast and New York City. And from the west coast and San Francisco.
Interstate 15 runs north and south through Salt Lake City. North to and from Canada. South to and from Mexico. Interstate 70 enters the central part of the state coming from Denver.
These highways move massive amounts of goods into and through the region. But they also bring excited visitors eager to travel in Utah and see what the state has to offer in terms of sights and things to do.
If you live in Salt Lake City as I do, you'll probably agree that our roads are one gigantic construction zone. It never stops.
At times, through the summer, it seems that every road you drive on has signs up, lanes closed, and traffic jammed up. The price we pay for so many people wanting to live, work, and play here.
But so many of the things people come here to see and experience are thankfully not severely impacted by traffic congestion. In fact, you'll find that as you travel in Utah to many of the places described on this site, you'll encounter few other people.
Rail
When Trax – our light rail commuter system – was initially opened up in anticipation for the 2002 winter Olympic Games in Salt Lake City, there were the usual detractors.
But it's become the way a lot of residents get to and from work every day. And it continues to evolve.
Transit stations located near a number of park and ride lots provides access to downtown Salt Lake City or to the University of Utah.
Legs are being built to and from Salt Lake City International Airport, to West Valley City, to mid-Jordan and down to the city of Draper. This expansion is scheduled to be completed by 2015.


If you want to rent a car in the Salt Lake City area, there are a variety of choices. The usual car rental agencies are located at the airport ... and throughout the city. Click on the link above ... the headline ... if you want to see the best car rental rates in Salt Lake City.


Buses, Taxis, Limos
A UTA (Utah Transit Authority) bus leaves Salt Lake City International Airport for downtown every 30 minutes during the day and every 60 minutes after 7:00 pm. The fare for one way is $1.60.
You'll find bus stops in the parking structure between Terminal One and Terminal Two. Weekend and holiday service is limited however.
A Taxi cab to downtown Salt Lake City from the airport will run you between $20 and $25.
There are a wide variety of limo and van services to and from the airport. Many of these will take you right to one of the many ski resorts within a short distance of the city.
If you want more details about the services available to and from the airport, you can go to:
for more specific information.