Travel In Utah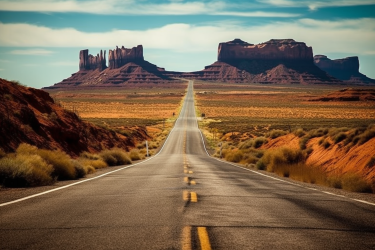 Unveiling Travel in Utah Options: Embarking on Adventures Aplenty
Hey there, fellow adventurers!  Let's dive right into the heart of Utah's wide-ranging transportation hodge-podge where highways wind through breathtaking landscapes, railways have evolved with the times and a world of transport possibilities are available at your fingertips.
So buckle up (as Craig Bolerjack, the voice of the Utah Jazz says) and let's explore the secrets of getting around the Beehive State!
And ... if you've never tried to navigate a roundabout ... we have them here.

Highways: Utah's Pathways to Discovery
Vast highways cut across Utah's diverse terrain connecting regions as diverse as night and day.  Picture iconic Interstate 80 racing coast-to-coast from the still-vibrant energy of New York City to the formerly laid-back charm of San Francisco.  It cuts right through the middle of Utah carrying a remarkable amount of the country's commerce on a never-ending bumper-to-bumper procession of trucks and trailers.
And don't forget the captivating panoramas along Interstate 15 guiding you from the country's cool picturesque northern border to the fiery southern tip of the state.  Oh, and there's a scenic detour via Interstate 70 whisking you away from Colorado's snowy summits right into the heart of Utah's red rock wilderness.
Hold on tight because these highways are more than mere roads. They're the very heartbeat of Utah's spirit.  They carry an amazing array of goods while transporting adventure-seekers and dreamers across this expansive canvas.
Utah's Ever-Changing Roads: Progress and Panoramas
If you're a local like me, you've felt the pulse … and the inconvenience … of Salt Lake City's ever-changing cityscape.  Like noxious weeds, construction signs sprout up seemingly everywhere.  Lanes of traffic twist and turn signaling progress.  The never-ending price we have to pay for progress (they tell us).  And traffic's tempo attempts … usually unsuccessfully … to not skip a beat.
Why all the hubbub, you ask?  Well, it's the price we pay for being at the heart of the "excitement."  The whirlwind of never-ending growth and the allure of Utah's charm turn around and punish us with the hum of jackhammers, the depressing traffic jams and too much foul air.
But amidst the organized chaos, something magical does seem to occur.  These construction zones are bookmarks in Utah's "progress."  Each lane closure becomes a chapter in a tale of bigger dreams and bolder ambitions.  And, more often than not, the result is often better that what it replaced.  But not always.
Here's a link to the official state of Utah official highway map.  It's the best one I've found: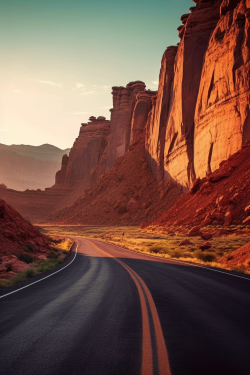 Revolutionizing Railways: Tracks with Tales
Let's talk about Trax – Utah's light rail commuter system.  Once upon a time, skeptics raised eyebrows when it debuted for the 2002 Winter Olympic Games.  Who's going to use it they said?  But today, it's the heartbeat of many Utahns' daily life.
Because of Trax, you can now glide on a sleek train through the urban landscape being transported to downtown Salt Lake City or the University of Utah for studies or a football game.
These same tracks link downtown to the Salt Lake City International Airport.  To the west side city of … appropriately named … West Valley City.  And south to the exploding city of Draper.  These tracks are scripting a fresh chapter in Utah's travel narrative hopefully reducing some of the auto traffic on our roads.
Travel In Utah in Style: Car Rentals and More
If charting your own course is your style, Utah's got your back.  From the Salt Lake City International Airport to the city's core, a variety of car rental options readily await your foot on the gas pedal and your credit card in their database.  This option allows you to venture out on the open road and let your adventure unfold at your own pace.
Curious about the best car rental rates in Salt Lake City?  I'll leave that to you.  Options abound with prices varying widely based on factors such as Expedia deals or AARP membership.  This is the option I prefer when traveling and it's just a couple clicks away.
Uber, Lyft, etc.
An Uber costs somewhere between $15 - $25 for that same run from the airport to downtown Salt Lake City.  Of course you can use Lyft or whatever service you prefer.  An Uber from the airport to Park City may run you $40 depending on where in Park City you want to go. 
Letting someone else do the driving with Uber or Lyft has become a much-preferred way of travelling especially in the larger cities.
Navigating with UTA: Buses that Connect
You can step off a plane at Salt Lake City International Airport, hop onto a UTA bus and be downtown in 20 minutes.  The buses keep their rhythm running every 20 minutes.  The fare?  A pocket-friendly sum between $1 - $3 for a one-way ticket.  It's an affordable way to see the city's vibrant atmosphere at a slower pace if that's of interest.
Please make sure you check these prices for yourself as they are subject to change at any time and this page won't be updated frequently.

Taxi Tales: Speeding to the City
If you're like a distinct minority of people, you still prefer riding in a taxi.  You can slide into a taxi at the airport that will get you downtown in less than 15 minutes.  The fare?  An Uber-like $25 - $30.  That fare from the airport to Park City will cost you around $100.
As above, check the current prices out for yourself.

Limos and Van Delights: Arriving in Style
And for those who have the means while craving comfort and luxury, limos and van services stand ready to whisk you away.  A smorgasbord of options promises to sweep you off your feet and transport you to your destination with panache.  And guess what? Many of these services are used exclusively to take visitors from the airport to nearby ski resorts … including Park City … making your transition from tarmac to snowy peaks a seamless adventure.
Unearthing the Details: Your Guide to the Journey
Eager to dive deeper into Utah's transportation options especially when flying into Salt Lake City?  For the nitty-gritty details, you can visit SLCAirport.com.  It's the go-to source for specifics on services that'll make your journey to and from the airport as smooth as Utah's freshly powdered slopes.
So there you have it.  The options for travel in Utah go beyond mere roads and tracks.  Whether you're budget-conscious, comfort-seeking, or luxury-loving, Utah's got your back.
If you want more details about the services available to and from the airport, you can go to: