Utah Stream Access


Utah Streams – Public Waters?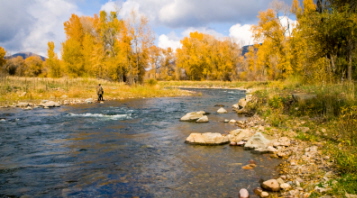 Utah stream access is a controversial issue.  It's a question of private property rights versus public … or state ... rights.  But is it really?

It depends on what the interpretation is for each. And … like so many things nowadays … it's being determined in a court of law.
But recently … in May of 2012 … we got a little closer to what that interpretation is going to be. The bottom line is that in 2010, HB141 was passed by the Utah Senate. It overturned the easement recognized in an earlier Utah Supreme Court case.
That easement allowed the public … and more importantly fishermen … to walk in a stream or river flowing over private property. HB141 reversed this ruling and made it illegal to walk on the streambed without gaining the permission of the property owner.
This law shocked Utah's fishermen. And those from outside the state who wished to come here and fish our waters. But the door has now been opened for a return to public Utah stream access.
A Utah judge ruled that Utah rivers and streams are … in fact … public waters. They are owned by the state and must be managed accordingly. But he didn't quite rule that this allows the public access to streams flowing over private land.
Fourth District Judge Derek Pullan asked lawyers for the various parties … the Utah Stream Coalition, the state, and the landowners … to brief him further so he can make a final ruling later this summer.
Both sides thought the ruling favored their side. And so they would. The basic question comes down to a couple decisions. Does the regulation by the state Legislature violate public-trust doctrine? And how much authority does state law allow the Legislature to actually have? In this case, the authority to restrict public access to public waters.
Stay tuned. Fishermen and sportsmen … and not just from Utah … are waiting for the answer.
Back to top 

Back to Fishing in Utah

Back to Home Page