Yuba State Park


Utah's Yuba State Park has warm water and sandy beaches. And it's one of the few Utah state parks with boat-in camping.
With both primitive and developed camping along with relatively easy access, it's a great place for people who love water.
Yuba is a year-round fishing spot for walleye, perch, catfish, rainbow trout and northern pike. It offers plenty of space for hiking, picnicking, bird watching, and mountain biking.
Yuba has recently become a hot spot for northern pike fishing. Big ones. Some in excess of 40". An awesome experience to pull a fish like that in.
The park concessionaire provides rentals of boat, personal watercraft and off-highway vehicles. They also offer camping and boating supplies at their store.
Yuba Is Divided Into
Five Recreation Areas
Oasis Campground
Oasis campground is a developed campground. With 28 individual campsites for tents and RV's. There's also a group campsite with pavilion for groups up to 75 people. You'll find:
modern restrooms
showers
drinking water
shade trees and lawns
a boat ramp
a day use pavilion
a beach
and park headquarters
North Beach
North Beach is a primitive camping area. But with the above-mentioned sandy beaches. And camping and day use allowed right at the water's edge. You'll find picnic tables and metal fire rings here also.
West Beach
West Beach is also a primitive camping area. With sandy and gravel beaches. Camping and day use is permitted at the water's edge here also. Picnic tables and metal fire rings are found here also.
Eagle View
Previously called East Beach. This is a boat-in only camping area. With 20 campsites for tent camping only. Five of the sites come with a boat dock.
These sites each provide a shade canopy, a tent pad, a picnic table, and a food prep table. The beach … like so much of Yuba … is a very nice sandy one. An area on this beach is for day use only with picnic tables.
Painted Rocks
Painted Rocks is a semi-developed campground. It offers 41 campsites for tents and RV's. There's a group campsite with pavilion available for groups up to 150 people. Here you'll find:
shade canopies
drinking water
an RV dump
a boat ramp
and a beach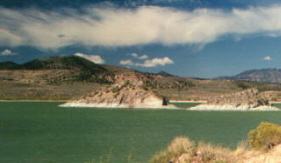 Where Is It?
Yuba State Park is located about 110 miles south of Salt Lake City. You can get to the main parking area at Oasis … 25 miles south of Nephi … by taking exit 202 off I-15. It's only 5 miles in.
Painted Rocks is 16 miles south of Levan off State Highway 28. Go ¾ mile west.
The nearest town with services is Scipio 10 miles south of Oasis. Gunnison is 18 miles south of Painted Rocks.
Park Hours And Fees
Yuba is open from 6 a.m. to 10 p.m. year-round. And it's open on holidays.
day visits cost $7. This includes boat launch.
day use for Utah seniors is $4. $75 for an annual pass. $35 for an annual Senior Adventure Pass.
overnight camping at Oasis is $16. $8 for an extra vehicle.
Camping at Painted Rocks is $10.
At the Eagle View boat-in campground, the fee is $10. $15 with a dock.
The North and West Beaches are $10 for a primitive camping experience.
Group overnight camping at Oasis is $100 flat. There's a maximum of 75 people and 20 vehicles. At Painted Rocks, group camping is also $100 flat. 150 people and 20 vehicles max.
Yuba State Park
PO Box 159
Levan, UT 84639-0159
(435) 758-2611
435-654-0171



Back to top 

Back to Utah State Parks

Back to Home Page