Alta Ski Resort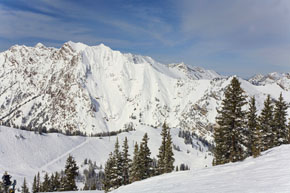 Alta Ski Resort sits just east of Salt Lake City up Little Cottonwood Canyon in the Wasatch Mountains. It's just up the road from Snowbird Ski and Summer Resort.
Alta covers an area of 2200 acres for skiing. The resort features a base elevation of 8,530 feet rising to 10,550 feet for a total vertical gain of 2020 feet. It provides the best that Utah powder has to offer.
Alta has the distinction of being one of the oldest ski resorts in the U.S. It opened its first lift back in 1939. It is interesting to note … annoying for some … that Alta is one of the very few ski resorts in the country not allowing snowboarding.
Alta is one of Utah's favorite resorts for locals. For several reasons. Less crowded. Fantastic powder. Cheaper lift tickets, close proximity to Salt Lake City, and wonderful scenery.
Lodging
At the Alta Ski Resort, people can choose from three different styles of lodging. Base lodges, condos and vacation homes. Base lodges allow guests to dine and stay in ski-in/ski-out hotels that feature a scenic view of the mountains.
Condos are not technically part of the resort but are located within minutes of the slopes. Vacation homes are the ideal way to spend a vacation at this resort. With many of them also located only minutes from Alta, many vacation homes feature private chefs.
Skiing
Skiing at Alta Ski Resort is nothing short of spectacular. Guests can enjoy Nordic skiing and cross-country skiing on a groomed track that spans 5 kilometers.
People who don't have their own equipment can stop by the Alta Ski Shop found in the Wildcat Ticket Building. You can rent just about anything youmight need including snowshoe, skate, classic and telemark rentals.
Daring guests are also encouraged to try their hand at guided off-trail skiing on the Grizzly Gulch Bowl found just above Alta.
People less sure of themselves on the slopes can take skiing lessons. The resort offers lessons for both adults and kids.

Eating
Any good resort will have great food options and Alta is no exception. In fact, there are at least a dozen eating options at Alta.
Alf's Restaurant offers cafeteria-style dining. While the Watson Shelter is a café that sells 100 percent grass-fed Utah burgers.
The Collins Grill is a European mountain café. Baldy Brews is an expresso bar. The Albion Grill is another cafeteria-style restaurant. While the Alta Java is a coffee bar.
Other fine choices for dining include the Alta Lodge, the Alta Peruvian Lodge, the Goldminer's Daughter, the Rustler Lodge, the Snowpine Lodge, and the Shallow Shaft.
Racing Events
The Alta Ski Resort puts on recreational racing events on Fridays and Saturdays during the ski season. These events are open to anybody who wants to take part. And last from 11:00 a.m. to 3:00 p.m. They cost $3 for a single run and $10 for unlimited runs.
The resort also holds special events racing. This means the race area is available for rent to any party wanting to hold its own racing event. Special events racing can be customized as a whole package including ski rentals, lift tickets, lunch, coaching, professional photography and awards. In addition, of course, to the actual skiing event.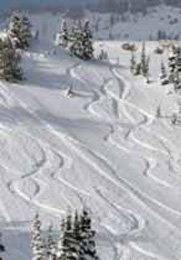 Some Quick Facts About Alta
The average annual snowfall at the Alta Ski Resort is 514".
There are 116 total runs with 25% being classified as easiest. 35% are classified as most difficult. And 40% are classified as more difficult.
The resort has 7 lift systems with 3 fixed doubles, 1 fixed triple, 1 high-speed triple and 2 high-speed quads.
No night skiing. It's not offered.
Season passes range from $49 for Ski Pioneers all the way up to $1,799 for Adult Snowbirds.
Contact Information & Mailing Address
Alta Ski Area
Highway 210
Little Cottonwood Canyon
Alta, UT 84092
801-359-1078 or 888-356-2582


Back to top of Alta Ski Resort

Back to Utah Ski Resorts

Back to Home Page