Arches National Park Camping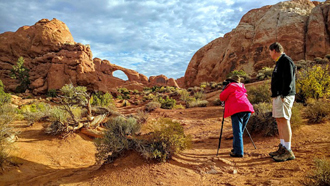 The Arches National Park camping possibilities are actually quite limited in the park itself.  

The park is the largest concentration of natural stone arches in the world. It was initially established as a National Monument in 1929. And became a National Park on November 12, 1971.
Arches is an arid desert located just five miles north of Moab on Highway 191. It's only a 3½ - 4 hour drive from Salt Lake City.
The beautiful red desert landscape has been uniquely transformed over time by
the gradual formation of oddly shaped sandstone formations. There are over
2000 sandstone arches spread throughout
the 73,000 acre park!
Be prepared for the variety of conditions you're likely to face when you get to Arches National Park. For one thing, it's a desert. But it's also located at a relatively high altitude. From 3,900 feet (1200 meters) to 5600 feet (1,700 meters) above sea level.
From June through September, temperatures may exceed 100 degrees! On the other hand, from December through February, it can drop below freezing (32 degrees F). In a 24-hour period, temperatures can range 50 degrees F! Always keep this in mind when planning a visit and a camping trip.
If you're interested in Arches National Park camping, it's simple. Camping in the park itself is quite limited. There's only one campground in the park ... Devils Garden. There is ... however ... additional camping in or around the nearby towns.
The Devils Garden campground is located 18 miles (29 km) from the park entrance. It's is open year-round. During the peak season from the middle of March until late October, the fee is $ 10.00 per night. During the off-season from late October to the middle of March, the fee is $ 5.00 per night
Individual Sites
There are 52 individual sites in Devils Garden Campground. Each will accommodate up to 10 people. Between March 1 and October 31, you can actually reserve individual sites through the National Recreation Reservation System (NRRS).
These reservations must be made no less than 4 days and no more than 240 days in advance. Only 30 of the sites can be reserved in this manner.
The 22 remaining sites are up for grabs on a first-come, first-served basis each day. You can get a head start by getting to the park entrance or visitor center as early as 7:30 am.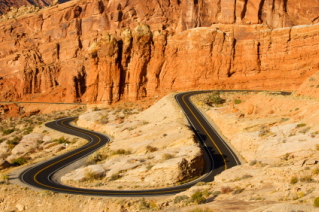 Group Sites
There are two areas in the campground for groups of 11 or more people. The Juniper Basin campsite accommodates as many as 55 people. The Canyon Wren campsite can handle up to 35.
Group fees are $ 3.00 per person per night with a minimum of $33.00 per night. And no RV's or trailers are permitted in the group sites.
Reservations For Arches National Park Camping
You can make reservations for both group and individual sites through NRRS year-round. Once again, reservations must be made no less than 4 days and no more than 240 days in advance. If group sites aren't reserved ... like individual sites ... they're available on a first-come, first-served basis on the day of arrival.
To make reservations for Arches National Park Camping, go to www.ReserveUSA.com . Or call NRRS at 877-444-6777, 877-833-6777 (TDD) or 518-885-3639.
Facilities
potable water.
tables.
grills.
pit-style and flush toilets – there's no water during the winter months.
no showers.
don't forget your own wood or charcoal. No wood gathering or ground fires are allowed in the park!
some sites will handle RV's up to 30' in length.
Have A Pet?
Pets are allowed in the campground. But on a leash of less than 6' in length. They aren't allowed on the many trails or in the backcountry.
Backcountry Arches National Park Camping
You can camp in the backcountry but a permit is required. These can be purchased at the visitor center. Be aware ... though ... that there are no designated backcountry campsites or trails.
Conditions can be harsh. And it's essential that low-impact camping techniques are practiced. You have to carry all your water. And NO FIRES are allowed.



Back to top of Arches National Park Camping

Back to Arches National Park

Back to Home Page