Bear Lake Scenic Byway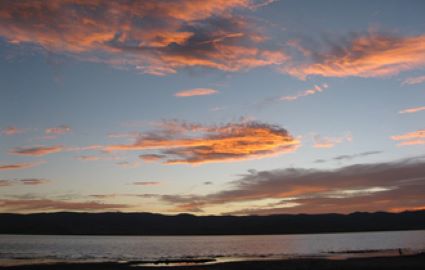 The Bear Lake Scenic Byway takes you along the scenic west shore of the turquoise waters of Utah's Bear Lake. The lake's unique color ... viewed from above as you drive down towards it ... will amaze you.
The lake actually sits in Bear Lake State Park ... a year-round destination for recreation. And even cultural activities. You'll find each season offers its own unique blend of activities and adventure.
The byway is a short drive. It follows State Route 30 between the towns of Garden City and Laketown. These two towns are historically small agricultural towns.
But they've grown and evolved to welcome the many people who flock to Bear Lake to play and relax. Especially in the summer.
The lake's unique color comes from the reflection off limestone deposits suspended in the lake. If you want to read more about the Bear Lake area, visit my Bear Lake State Park page.
You can get to Bear Lake by driving up Logan Canyon along US-89. This road ends at Laketown. The byway heads south from there.
From the east, take SR-30 at the Sage Creek Junction ... the junction of SR-30 and SR-16 ... and head west into the valley.
The Byway is only 15 miles long. And the travel time is less than ½ hour. Plan on stops at each end. Especially for a raspberry shake during the hot summer.

Back to top of Bear Lake Scenic Byway

Back to Utah Scenic Byways

Back to Home Page