Best Hikes in Utah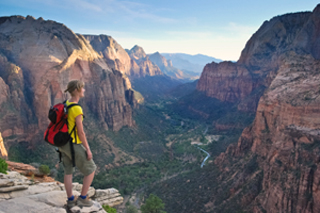 Utah's remarkable backcountry has countless hikes suitable for a wide variety of hikers.
Hiking is one of the most popular outdoor activities in America. Hiking doesn't require a high level of physical conditioning or a lot of money. It can be enjoyed by young or old. Rich or not-so-rich. Male or female.
Sure, you can spend a lot of money on equipment if you want. For expensive backpacks. And the latest in hiking boots. But you don't need to. Nonetheless, if you're serious about hiking, you can buy the equipment you need for much less than a normal family vacation.
Hiking is one of the best ways I know to just get away from everything. I've seen more cool things on hikes in Utah … sometimes while photographing or hunting … than any other place I've spent too much money visiting.
Pick up 8 or 10 books about hiking in Utah and you'll find the choices overwhelming. But that's the neat thing. Like anything else, it's all someone's opinion.
Just like the hikes you'll read about on this site. My opinion. Some I've done. Some not.
You'll see more of the best hikes in Utah added as this site grows. Hikes for all kinds of hikers. Beginners. Families. Experts.
But most of them are shorter day hikes. I'll try to include photos when I can get them. Because of the state's unique and varied geography, it's not easy to come up with the best hikes in Utah.
Whether you enjoy hiking in the beautiful alpine mountains of northern Utah. Or the red-rock canyon country in southern Utah. Or a unique experience … like hiking on Antelope Island in the middle of the Great Salt Lake . There are so many to talk about.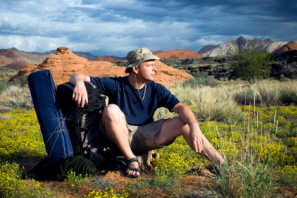 Some of the best Utah hikes I'll try to provide information for are:
best hikes for backpackers
best hikes for beginners & kids
best hikes for people who love lakes
best hikes for fishing
best hikes for lovers of wildlife
best hikes for lovers of wildflowers
best hikes for river wading
best hikes for people who like geology
best hikes for people who like archaeology
One thing to remember. As Utah's population continues to explode … along with the number of visitors to the state each year … more and more people are exploring the backcountry.
This not only taxes the capacity of these beautiful lands, it is starting to make some of them look like inner-city parks. It is absolutely imperative that hikers … and other outdoor enthusiasts … police themselves.
The need for outdoor ethics … no the absolute requirement for them … must be emphasized at all times.
It is infuriating to me when I walk into one of these beautiful areas and find that some idiot has left their mark on the land. With beer cans. Or old trashy fire rings. And other garbage. Even ax cuttings on trees.
Walk softly. Don't leave any sign to show you were there. And learn about safety. Not only when hiking, but when doing anything in the outdoors.
To read more about about the best hikes in Utah, click on this link: Utah Hiking Trails.
---
Have A Great Story About This Topic?
Do you have a great story about ghost towns in Utah? Maybe a comment. Or a question? Please share it here!
Back to top of Best Hikes in Utah

Back to Utah Hiking Trails

Back to Home Page