Utah Hiking Trails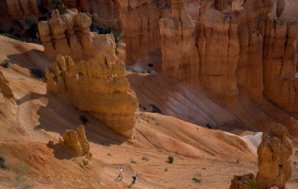 There are numerous books written about the countless Utah hiking trails. And each one of them will probably come up with a different list of the state's best trails.
Hiking is one of the ultimate examples of something that is free. Free in terms of monetary investment. And free of the regulation and stress of our ridiculously controlled society.
When you're on a hiking trail in the mountains … or canyons … of Utah, it's easy to forget about everything else. Work, bills, noise, pollution, people, computers, phones. You name it. An unbelievably easy, low-cost way to escape.
And just because a hiking trail is listed in a book or a website doesn't mean there aren't thousands more you can find on your own. I've hiked many nameless game trails all over the state of Utah that ended up being as scenic ... and challenging ... as any listed and officially named trail. And some of my best memories are of my time spent on those trails.
But for those of you who need some guidance, you'll find links on this page to a wide variety of hiking trails in Utah. For all types of hikers ... beginners, families, and even experienced backpackers.
The links below will take you to specific pages on my site with information about hiking trails in Utah. Some of them go to specific hikes. Some to pages with hikes included throughout the page.
Ass this site grows and evolves, I'll add more links on this page to specific Utah hiking trails and specific pages within this site. Please check back to see what's been added.



Back to top 

Back to Hiking in Utah

Back to Home Page