Cecret Lake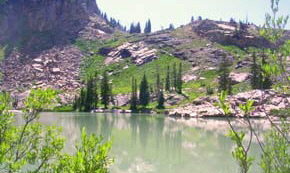 Cecret Lake is a small beautiful alpine lake in Albion Basin at the top of Little Cottonwood Canyon . USGS maps show it as Secret Lake. And some people spell it that way.
But most of the reading I've done show it spelled with a "C". I can't find a reason why although I've read a few reasons which I believe people have just made up.
It's a short 1-mile hike of minimal difficulty. Although the altitude may cause shortness of breath for those who may be from near sea level. If you read about Albion Basin, you'll see that Alta and Snowbird ski resorts are just below this scenic area.
By most hiking standards, it's more of a walk than a hike being relatively flat all the way. In fact, children and older people should be able to make it easily if they able to walk. Cecret Lake is a protected watershed for Salt Lake City . No swimming and no dogs are allowed.
This is a high-altitude mountain setting. Snow doesn't usually completely melt until August. In fact, this year ... 2011 ... the trail was still covered with snow and ice on July 18.
In late July and early August, Albion Basin puts on one of the most magical wildflower displays in the western U.S. And, of course, in September, the fall leaf color displays are equally stunning.
The weather can change quickly up here. And usually for the worst. Thunderstorms are common and fierce. And can be deadly. Plan for them.
To get to Cecret Lake from Salt Lake City, take I-215 to the 6200 South off-ramp. Drive south about three miles following the signs to Alta Ski Resort. Drive up Little Cottonwood Canyon to the top ... 10.2 miles ... until the pavement ends.
Continue along the unpaved road until you get to the very end parking lot near the campground. This road ... even though unpaved ... is well-maintained. Passenger vehicles should be fine. The last mile or so of this road is in Albion Basin.
The trailhead parking lot is for hikers only. From the entrance to the Albion Basin Campground, the road leads around the west side of the campground and intersects an access road. Follow this access road west.
After a short distance, the trail or access road forks. The right fork leads to a cabin. The left fork leads to Cecret Lake. The road turns into a wide trail but is bisected by several smaller trails.
When you reach the lake, the view of the North Face of Devils Castle is spectacular. If you're a strong hiker looking for more of a challenge, continue on and hike to the summit of Sugarloaf Peak.
At 11,051 feet, it's the 13th highest peak in Utah. This will add another two hours to your hike. And you probably won't be able to take the kids and grandparents.
You gain access to the trail leading to Cecret Lake by parking on the main road leading through Albion Basin. You hike up the dirt trail to the lake from there.
The Albion Basin Campground is set among pines and aspens. Next to the campground, you'll find a small stream in which the state allows you to fish. There's a campground host on site. Along with drinking water, vault toilets, and garbage service.
This campground has a number of single sites along with one double. And one triple-family site. All have picnic tables and fire rings. You can buy firewood but all roads and parking spurs are dirt.


Back to top of Cecret Lake

Back to Albion Basin

Back to Home Page