Bonneville Salt Flats



Salt flats which blanket an area of 159 square miles (412 km). Located west of the Great Salt Lake , the salt buildup is as much as six feet  ... 1.8 meters ... deep!
And then envision vehicles of all shapes and sizes rocketing over the surface of this vast flat wasteland of rock-hard salt. At world-record speeds.
The Bonneville Salt Flats cover more than 30,000 acres. They stretch almost as far as the eye can see along I-80 near the Utah-Nevada border. And they're managed by the Bureau of Land Management.
The closest city to the Salt Flats is Wendover, Nevada. "Utah's gambling capital". Ten miles (16 km) to the west.
Yes, this is still a world-famous destination. The stark landscape is the destination for tourists and movie producers. And auto enthusiasts trying to drive faster than anyone ever has.


History of Speed at the Salt Flats
In 1896, W.D. Rishel happened to be charting a bicycle racecourse from New York to San Francisco. He saw the Bonneville Salt Flats and a seed was planted. He realized the potential for a whole different kind of "race". A race against the clock.
When he returned to the flats, he eventually convinced a barnstorming daredevil - Teddy Tezlaff – to try setting an automobile land speed record with his Blitzen Benz. And Teddy succeeded in 1914 reaching 141.73 mph. It only stood as an unofficial world record, however, as automobile clubs refused to recognize the record.
But most of the world remained oblivious to the flats for almost two more decades. In 1932, Utah driver Ab Jenkins – who referred to the Bonneville Salt Flats as the "ugly ducking" – set an unofficial 24-hour endurance record averaging 112.935 mph.
Even though Salt Lake City newspapers refused to publicize his achievement, he continued to push Bonneville Salt Flats as "the place" for setting land speed records.
In 1935, Jenkins lured Sir Malcolm Campbell – the world's most famous auto racer – to the flats to attempt a new speed record. And did he ever. His two runs averaged 301.1202 mph!
As the years passed, more men came to the Bonneville Salt Flats raceway to set new records. It became the standard course for world land speed records. First the 300 mph barrier. Then 400. And 500. Even 600 mph!
Jet-powered vehicles made their debut in the 1960's. Craig Breedlove hit 600.6 mph. Art Arfons reached 576.55 mph. And in 1970, Gary Gabolich hit an almost unbelievable 622.4 mph in his "Blue Flame".
Since that first run in 1914, hundreds of automobile and motorcycle speed records have been set over the years.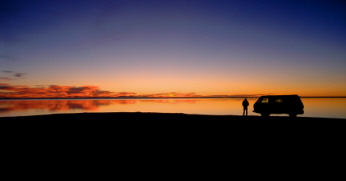 When Are Events Held?
Speed trials are still scheduled throughout the summer and fall. And the public is invited to attend most events. The annual Speed Week is normally held each August. If you need information about events and dates, contact:
Bureau of Land Management
Salt Lake District
2370 South 2300 West
Salt Lake City, Utah 84110
(801) 977-4300


History of the Bonneville Salt Flats
When you first see the salt flats, you're bound to think that no one could have ever lived out here. But that's not true.
Humans have lived out here at different times for thousands of years. In fact, archaeological excavations at nearby Danger Cave prove humans lived here more than 10,000 years ago!
Jim Bridger and other mountain men had explored much of this desert region around the Great Salt Lake desert by 1824. Captain John C. Fremont and his survey party made the first actual recorded crossing of this desert in 1845. His scouts included Kit Carson and Joe Walker.
The very next year, 23-year-old Lansford Hastings retraced the steps of Fremont's party. Even though the writings of Joe Walker warned against ill-prepared pioneers trying the dangerous crossing, young Hastings convinced several groups to follow him.
In 1846, the infamous Donner-Reed party, despite Walker's warnings, sought a shortcut to California. They didn't take enough water and lost too many oxen along the way.
Four of their wagons were abandoned 10 miles (16 km) northeast of the Bonneville Salt Flats. The loss of valuable time delayed their arrival at the Sierra Nevada Mountains. And resulted in the tragic winter where many of them perished.
In 1910, with the completion of the southern Pacific Railroad from Salt Lake City to San Francisco, the Bonneville Salt Flats' first permanent passageway was finished.
The area is named after Captain B.L.E. Bonneville. He never visited the flats but he led expeditions nearby in the 1830's while blazing parts of the Oregon Trail.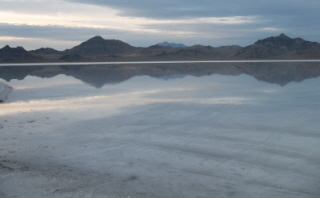 Why Salt Flats?
About 15,000 years ago, during the last Ice Age, Lake Bonneville covered 1/3 of what is now Utah. The mountains surrounding the salt flats - and even over to the Salt Lake Valley - have what we call "benches". Different levels. Almost like steps. Remaining when the ancient lake receded.
The Great Salt Lake remains as a smaller footprint. And the salt flats. Formed as water floods the flats each winter. As it evaporates during the spring and summer, strong desert winds smooth it to an almost perfectly flat table. Stretching for miles.


Accommodations and Rules
Stay on existing roads. Much of the surface is unstable with soft mud underneath.
Stay off the salt flats when covered by water. The surface is soft and very corrosive.
It's a desert. Prepare for one. Temperature variations can be extreme. From below freezing in winter to well over 100 F in summer.
There are no services or facilities.
Overnight stays on the flats are prohibited.
You can camp on surrounding public lands.
Private campgrounds and hookups can be found at Wendover, Nevada 10 miles (16 km) west of the Bonneville Salt Flats. As well as hotels and motels.



Back to top of Bonneville Salt Flats

Back to Utah Attractions

Back to Home Page