Deer Creek State Park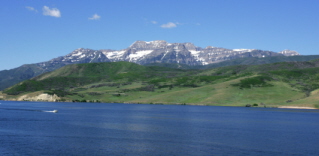 Deer Creek State Park is another one of the Utah state parks established as man-made water playgrounds. Boat, fish or windsurf these relatively warm mountain waters. And great camping is available at any one of several campgrounds.

The park is located near the towns of Heber and Midway as well as Wasatch Mountain State Park. Enjoy spectacular views of towering Mount Timpanogos. And one of the most stunning mountain views on the planet.
The people who originally settled this valley were of Swiss descent. When you see where they settled, you'll know why they felt right at home.
Facilities include:
a concrete boat launching ramp
a 35-unit campground with modern rest rooms and showers
75 total units with a stay limit of 14 days
58 RV trailer sites, 14 tent sites
two group-use areas
sewage disposal and fish cleaning stations
showers
a paved parking area
a restaurant
boat rentals, gasoline and convenience store items

Facts About The Park
3260 acres – most of it water
5,400 feet above sea level
open year-round with camping available from May through September
reservations are accepted from May 15 through September 15
Because Deer Creek is almost entirely made up of a lake, the emphasis here is on water-related recreation. Boating, fishing, and swimming.
The hills and mountains around the lake abound with wildlife. And you can enjoy some of the best fly-fishing in the world on the Provo River. It flows in and out of Deer Creek.


Where Is Deer Creek?
Deer Creek is located near Midway and Heber in the southeast corner of the Heber Valley. It is a half-hour up Provo Canyon from Provo. And less than an hour southeast of Salt Lake City heading up I-80.


Fees ... And There Are Always "Fees"
The day use fee is $10.
The camping fee is $16-$25.
A $75 annual pass is available from the park office.
Deer Creek State Park
P.O. Box 257
Midway, Utah 84049
435-654-0171



Back to top of Deer Creek State Park

Back to Utah State Parks

Back to Home Page