Festival of Trees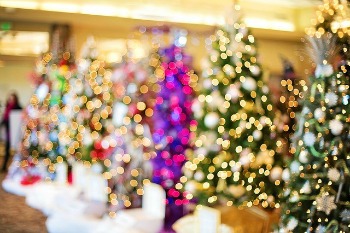 The Festival of Trees in Salt Lake City is attended by more than 90,000 people each year.  For 40 years, it has heralded the start of the Holiday Season in Utah. 

Now held at the South Towne Exposition Center in Sandy, Utah, it is a holiday tradition in the area. And is one of the largest indoor displays of decorated Christmas trees in the world.
Each year, a huge empty exhibit hall converts into a magical winter wonderland with more than 800 wonderfully decorated Christmas trees along with wreaths, gingerbread houses, quilts, and centerpieces.
The aroma of freshly baked cakes, cookies, scones, and cinnamon rolls permeates the Expo Center. The Christmas trees and other items are sold at auction … prior to the festival … with every penny going to help children at the Primary Children's Medical Center.
Last year alone … in 2009 … Primary Children's at the University of Utah used more than $14.3 million to make sure that every child admitted received the proper medical care regardless of their ability to pay.
To take this further, the Festival is entirely the result of the passion and efforts of volunteers. It lasts only four days … the first Wednesday through Saturday in December … but its effects help children in need throughout the year.
The Festival was originally the result of a challenge directed to 15 women 40 years ago to identify a way to raise funds for the hospital. The first year … with only 60 trees … $47,000 was raised. Today, proceeds from the festival exceed $1.5 million each year.
In fact, since 1971, more than $24 million has been raised by the Festival. Each year, more than 800 trees are displayed each decorated in a unique style.
There is no common denominator when it comes to themes. The trees are decorated and donated by businesses, families, individuals, church groups, and community organizations.
Some Facts About The Festival Of Trees
The Festival is open daily from 10:00 a.m. to 10:00 p.m.
It is held at the South Towne Expo Center in Sandy, Utah.
Wednesday is Family Day where up to 6 immediate family members can get in for $15.00.
The Festival has been replicated in many cities throughout the United States and Canada over the years. But the Salt Lake City Festival of Trees is the original and the longest running of them all.



Back to top

Back to Utah Attractions

Back to Home Page