Grafton Utah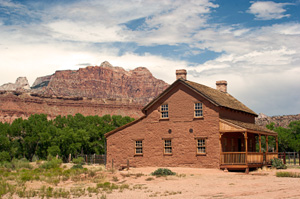 The southern ghost town of Grafton Utah has to be most photogenic ghost town in the state. Why? Well, it's located near the stunning Zion National Park . In fact, you can get a great view of the park from Grafton.
Five intact buildings … made of adobe, stucco, and rough-hewn log … have survived to this day. The town has been the scene of parts of several movies. The best-known is probably Butch Cassidy and the Sundance Kid.
Grafton Utah is located along the Virgin River just off the Zion Park Scenic Byway . The town was first settled in 1849. Named after one of the Mormon settlers, it was situated a mile below the current town. But it was washed away by floods in January of 1862. After 40 consecutive days of rain!
The farmers moved a mile upstream to rebuild their homes and plant their crops. They had been sent out from Salt Lake City to plant cotton and send it back. And that's what they did. But they soon realized they needed to plant other crops.
By 1864, 88 families were settled in the area each farming an acre of ground. They planted orchards yielding cherries, peaches, apples, pears, grapes, currants, and berries. They also had 200 acres under cultivation. And had dug 7 ½ miles of ditches and canals.
But regular flooding … and the always present threat from unfriendly Indians ... took their toll on the townspeople. By 1868, the town was almost deserted. Most of the people moved to Rockville.
By 1920, only three families remained. They raised livestock rather than farmed. But soon they were gone too.
A Walk Through Grafton, Utah
In later years, Hollywood agents discovered the town. And bought it up. The fantastic colors with the backdrop of Zion National Park made it a natural for shooting movies … especially westerns.
To get to Grafton, take the Zion Park Scenic Byway east from I-15 just 9 miles north of St. George at the SR-9 exit.
The town is only 3 ½ miles from Rockville over an old truss bridge and down a gravel road. Rockville is 7 miles east of Hurricane.



Back to top

Back to Ghost Towns in Utah

Back to Home Page