Zion Park Scenic Byway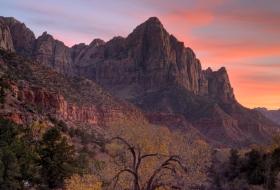 The Zion Park Scenic Byway takes you east from I-15 just 9 miles north of St. George.  It eventually takes you right through the heart of Zion National Park . Take the SR-9 exit.
The byway begins by following the path of the Virgin River past Quail Creek and Sand Hollow State Park before it reaches the town of Hurricane.
Sand Hollow State Park is the newest of Utah state parks. And one of its most popular.
The southerly location offers warm, blue waters and southern Utah's famous red sandstone landscape. Enjoy boating and fishing (for bluegill and bass) on the reservoir.
There are some wonderful historical little towns along the way. Step back in time as you pass through Rockville. With quaint well-kept pioneer homes bordering orchards and pastures just as it did a century ago.
Just a few miles off the byway, visit the now abandoned ghost town of Grafton. You may have seen it in the movie Butch Cassidy and the Sundance Kid. It is only 3 ½ miles from Rockville down a gravel road.
As you approach Zion National Park, you'll reach the town of Springdale … the southern gateway to the park. The Zion Park Scenic Byway runs right through Zion National Park. And the most prominent feature of Zion National Park is Zion Canyon.
Most of the park's facilities are located here. And most of the park's visitors end up here.
During the tourist season, private vehicles aren't allowed in Zion Canyon. Shuttle buses take you through the canyon stopping at all the popular attractions.
Along the byway, you'll see the Great Arch of Zion. And pass through a tunnel built in 1930. Large vehicles must pay an escort fee to travel through it.
After leaving the park, the route ends at Mt. Carmel Junction. The byway is 54 miles long. Plan on 1 ½ hours one way depending on stops along the way and in the park.



Back to top

Back to Utah Scenic Byways

Back to Home Page