Monument Valley to
Bluff Scenic Byway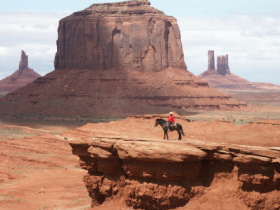 The Monument Valley to Bluff Scenic Byway takes you along SR-163 north from the Arizona border through Monument Valley . Or ... more properly ... Monument Valley Navajo Tribal Park .
Monument Valley straddles the border of northeastern Arizona and southeastern Utah in what is known as The Four Corners area. Established in 1923 as a trading post, it is situated completely within the Navajo Indian Reservation.
Even known incorrectly as Monument Valley Tribal Park, Navajos have made their home and living here for many years.
You've likely seen this landscape many times before although you may not have realized it. The scene of many movie Westerns. A lonely, seemingly empty, overpowering landscape.
Whether you're viewing the awesome multi-colored buttes. Or the radiant mesas of sandstone, limestone and shale. Many icons of the American West are found here.
Over the years, the twin sculptors of wind and water have formed what remains today. This is definitely a place you want to drive through at least once. Just to experience the sheer magnitude of its beauty. A wonderful place if you enjoy taking photographs.
As you leave Monument Valley, you'll see Alhambra ... the core of a volcano ... just off the road. North of Monument Valley, the byway takes you through the village of Mexican Hat. Named after the upside-down rock formation … a sombrero … also easily visible from the byway.
The byway crosses the San Juan River over an historic suspension bridge. And ends at the town of Bluff on US-192.
The byway is 45 miles long. But plan on a couple hours or more to enjoy the sights, take some photos, and experience the area's beauty.



Back to top

Back to Utah Scenic Byways

Back to Home Page