Nebo Loop
National Scenic Byway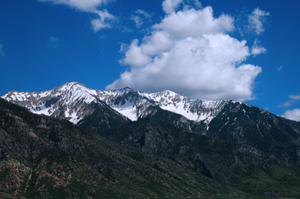 The Nebo Loop National Scenic Byway is a spectacular serpentine drive between the cities of Payson and Nephi past 11,877-foot Mt. Nebo ... the highest peak in the Wasatch Mountains.
As a National Scenic Byway ... along with seven others in Utah ... it's distinguished as one of the most scenic roads in the country.
If you like taking photographs, then take this drive. Especially in the fall. The color displays are absolutely stunning. Almost impossible to match anywhere else.
There are numerous overlooks ... to view the spectacular scenery ... along the way.  And you'll have a great chance to see a
variety of Utah Wildlife .
Six of the overlooks even have permanent scopes. You'll find numerous campgrounds, hikes of varying difficulty, and popular horseback riding trails.
Stop at the Devil's Kitchen Geologic Interest Site. A unique spot ... with eroded colorful red rock sandstone formations ... among the majestic mountain greenery of the loop. With a picnic area, a paved trail, and an observation deck.
Or the Payson Lakes Recreation Area. A great place to stop along the loop. In a mountain lake setting Utah is famous for. Great fishing. Paved trails for hiking. Or a short walk. Picnic areas. And camping.
The Nebo Loop National Scenic Byway takes about 1 ½ hours to drive if you don't stop along the way. But why wouldn't you? Plan a half day. Or more.
With the heavy snows in these high mountains, the road is closed during the winter months.



Back to top 

Back to Utah Scenic Byways

Back to Home Page