Patchwork Parkway
National Scenic Byway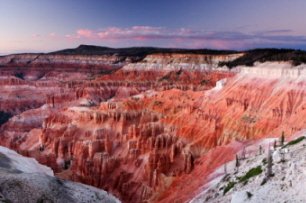 The Patchwork Parkway National Scenic Byway follows State Route 143 from Parowan to Panguitch in southern Utah.
From the town of Parowan … just off I-15 ... it climbs southeast past the picturesque Vermillion Cliffs and up Parowan Canyon.
It takes you past Brian Head Resort, along the edge of Cedar Breaks National Monument and through the Dixie National Forest.
Then past Panguitch Lake and down to the town of Panguitch.
The Parkway is 55 miles (88.5 km) long. Brain Head Resort is just 12 miles (19.3 km) southeast of Parowan. Brian Head … at 9,800 feet above sea level … is the highest incorporated city in Utah.
And it's a year-round outdoor playground. Enjoy skiing, snowboarding, hiking, mountain biking, photography, and … of course … sight-seeing.
Cedar Breaks National Monument lies just 3 miles (4.8 km) south of Brian Head. Cedar Breaks may be the most colorful of all Utah parks and monuments. There's a visitor center and several scenic overlooks along the road.
As you travel along the route … another 20 miles (32.1 km) … you'll find beautiful Panguitch Lake. It's a popular fishing and camping spot.
One summmer, my family and I drove this Byway and stopped at Panguitch Lake for a night. Or so we thought. We enjoyed it so much, we stayed for three.
The forests adorning the Markagunt Plateau encircling the lake offer breath-taking fall colors. Especially my favorite, the shimmering golden quakies … or aspens.
There are several stretches of steep roads along the Patchwork Parkway National Scenic Byway. You can navigate it in about 1 ½ hours depending on if you stop and linger at any of the sites.
During the winter, snow often makes parts of the route impassable. Four-wheel drive, snow tires, and chains are highly recommended during the winter.



Back to top

Back to Utah Scenic Byways

Back to Home Page