Zion Curtain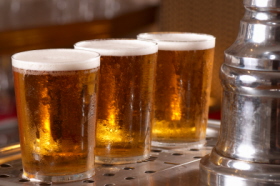 We thought Utah's Zion curtain was gone forever.  But no.  They're back.  Those foggy partitions so unique to the great state of Utah.
From one year to another in this state, there's no telling what the legislature is going to come up with next. Maybe only to be exceeded ... of course ... by the decisions being made on the national level.
So now ... in 2011 ... Utah has taken a step back in terms of how they treat people who like to have a beer now and then. These partitions are now being required on eateries who only serve beer as an alcoholic beverage.
I know. Makes no sense. Like so many things around here. Beer-only restaurants are now the target of our Mormon-dominated legislature starting in January of 2012. Here are the new rules:
New eateries must hide ... that's right ... hide servers pouring beer from bottles, cans, and taps.
Diners at all beer-only eateries must order food before they can get a beer. Why? Who knows. Maybe so you won't have more than one.
All sales must be at least 70% food. No more than 30% beer. Which idiot came up with that one?
No more daily drink specials.
Bartenders at restaurants opening after 2010 must be hidden from public view. I guess the ones working at places opened before this date aren't as scary?
The 5-liter, mini beer keg Chubby was outlawed on October 1.
And these restaurants must install partitions. Or build backrooms to ... not only store but .... pour beer. And, of course, 3.2 beer remains the only beer allowed.
Draper Republican Rep. Greg Hughes … who sponsored one of the bills … now says the legislation isn't what they "envisioned it to be". These same partitions have been required by law since January 2010 to hide bartenders mixing drinks in restaurants.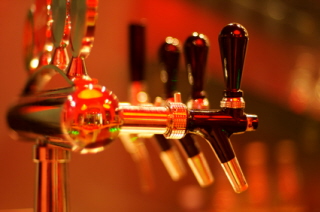 No one wants to take credit for the new Zion curtain regulation. But after the easing of Utah's liquor laws in 2009 … under the governorship of Jon Huntsman Jr. … and the elimination of Utah's archaic private clubs, Utah's mostly Mormon lawmakers have decided to move the needle backwards. And initiate even more anti-business initiatives.
One of the things they've done recently is refuse to free up additional bar licenses. This means that no more are likely to become available for at least two years.
What are they trying to accomplish? The had made significant moves a couple years ago to show that Utah welcomes visitors and isn't a weird place to come to. But now, they've turned right around to give those same visitors reason to believe they really aren't welcome here.



Back to top 

Back to Utah Liquor Laws

Back to Home Page