Best Burgers in Utah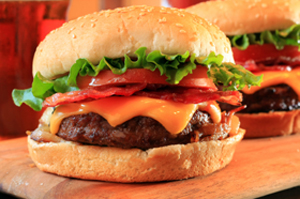 Why would I include a page about the best burgers in Utah on this site?  Perhaps it's because more than 9 billion burgers were served to hungry burger lovers in this country in 2010. More than any other food choice in the huge fast-food industry.
American ... and Utahns ... love burgers. And so do foreign visitors. So what are the 10 best burgers in Utah? At least in northern Utah. And who makes them?
This list isn't mine. I give full credit to the Salt Lake Tribune and their staff of thousands. Or at least a dozen or more.
In their June 29, 2011 paper, they did a great job of ranking their staffer's choices of the best burgers in Utah. Along with some of their reader's choices.
And below that, you'll see a couple additional choices which … in my opinion … should have made the list.
I love a great burger like anyone else. In fact, my family and I would rank my backyard grilled burgers right up there with any of these.
This list … though … covers northern Utah from Provo north to Ogden. And from Tooele to Park City . And, of course, metropolitan Salt Lake City in-between.
This list includes all the major chains. And remember, some of the best burgers in Utah served by local establishments aren't included because they can run you $8.00 or more just for the meat.
The criteria here? Cheap, fast, and delicious.
These burgers were scored by the Tribune's burgermeisters after considering the following factors:
appearance
flavor
bun
bun-to-burger ratio
price-to-burger comparison
manageability
I'm not sure about that last one. Perhaps they're talking about the logistics involved … the reality … of actually biting into and eating what's in front of you. Without looking like a total pig.
So, here we go.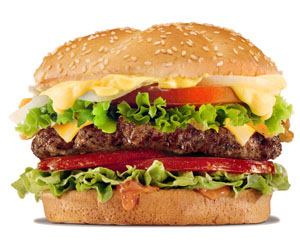 Four Tied For Number 1
I know. It sucks. I don't like ties either. But I'll list the 4 best burgers in Utah alphabetically by the establishment.


1a. Dairy Delight - The ½ lb. "old-fashioned" burger. Between $5 and $7 depending on what you want loaded on it.
46 West 100 South
Tooele
435-882-6400
Open daily 10 a.m. to 10 p.m.


1b. Lucky 13 - Bacon cheeseburger. Big and messy.
135 West 1300 South
Salt Lake City
801-487-4418
Open Monday – Saturday 11 a.m. to 2 a.m.
Sunday 10 a.m. to 2 a.m.


1c. Salt City Burger Co. - Their ¼ lb. burger for $5.16 can't be beat.
9176 South Village Shop Drive
Sandy
801-292-5544
www.saltcityburgercom.com
Open Monday – Thursday 11 a.m. to 9 p.m. Friday 11 a.m. to 10 p.m.
Saturday 11 a.m. to 9:30 p.m.


1d. Sammy's Café - "The Big Al" … at 1/3 lb. … includes everything you could want. Just make your choices when you order.
27 North 100 West
Provo
801-805-9208
www.sammyspieshake.com
Open Monday – Thursday 11 a.m. to midnight
Friday and Saturday 11 a.m. to 2 a.m


5. Ab's Drive-in - The "Fat Boy". Two 1/8 lb. patties and a host of condiments and toppings for $3.29.
4591 South 5600 West
West Valley City &
7903 West Airport Road
West Jordan
801-280-8075
www.absdrivein.com
Open daily 10:30 a.m. to 10 p.m.


6. Buster Burger - The single buster burger is a ¼ pounder formed in-house with fresh ground beef. Cheese, lettuce, tomatoes, and a toasted bun.
21078 West South Jordan Parkway
South Jordan
801-446-5800
www.busterburger.com
Open Monday – Thursday 11 a.m. to 9:00 p.m.
Friday & Saturday 11 a.m. to 10 p.m.


7. Guzzi's Vintage Burgers and Fries - All of their burgers are made in-house. What does that mean? A longer wait. But worth it. Try their garlic burger or Hawaiian burger. For $5.55 along with fries.
180 East 800 South
Salt Lake City
801-364-4541
Open Monday – Friday 11 a.m. to 7 p.m.


8. Hires Big H - Their quarter-pounder with cheese is only $3.85. Not huge but delightful. Their original location is just below the U of Utah. I remember eating there a lot when I first got to Utah too many years ago.
425 South 700 East
Salt Lake City
801-364-4582
835 East Fort Union Blvd.
Midvale
801-561-2171
2900 West 4700 South
West Valley City
801-965-1010
www.hiresbigh.com
Call them for hours.


9. Hook& Ladder Co. Fire Station No. 13 - Serving burgers in Glendale for 39 years. Their signature burger is a loaded ¼ lb. patty for $3.59. Or $5.99 for the combo.
1313 West California Ave.
Salt Lake City
801-972-2336
Open Monday – Saturday 11 a.m. to 8 p.m.


10. No Worries Café & Grill - Try 50 different ways to have your burger. The base price is $6.95 but you can pay quite a bit more depending on what you add.
185 Aspen Drive
Park City
435-658-5007
Open daily 7 a.m. to 2 p.m.
Two Which Should Be on the List
Of The Best Burgers in Utah
(In My Opinion)
1. Crown Burger - The locally-famous classic pastrami burger. And many other choices. 7 locations throughout the valley. Number 1 on the list of a lot of locals.
www.crown-burgers.com


2. Cotton Bottom - The "best damn garlic burger ever" as one guy online put it. The place looks like it's going to fall down from the outside but don't let that stop you. Near the entrance to the Cottonwood Canyons.
2820 East 6200 South
Salt Lake City
801-273-9830
---
Do You Agree With This List? Disagree?
Do you have a favorite which isn't listed here? How many of these burgers have you tried?

Tell us about it. Share your experiences ... good or bad ... with us. And let people benefit from your KNOWLEDGE … and experience … of the area.

But the difference here is that:


Your comments will be placed on a separate webpage on our website.

Sharing your comments is FREE.

It's as easy to do as typing it in.

It'll be available to you and visitors to this site for years to come!
What Other Visitors Have Said
Click below to see contributions from other visitors to this page...

Back to top of Best Burgers in Utah

Back to Best in Utah

Back to Home Page