Desert Hiking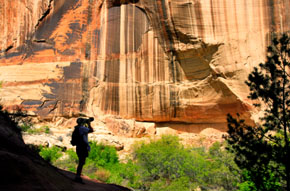 When people unfamiliar with desert hiking hear the term, they're often hesitant … even intimidated … about what it entails.
Reading through this site, you'll see photos … and read about … salt flats, barren landscapes, and dry harsh conditions in some areas. Why hike the desert?
Well, the desert in Utah can mean a variety of things:
beautiful deep canyons
stunning rock formations
archaeological treasures
cool … even shady … river bottoms
breathtaking plateaus with views stretching to the horizon
Maybe more experienced hikers use the term to keep the neophytes at home. Nonetheless, conditions in these areas can definitely be hostile if you're not prepared. But that's the key. Preparation.
Follow the general rules below and you should be able enjoy a safe desert hike:
Always know the area … and type of terrain … you're going into ahead of time. Check out the management agency. Talk to … or read the advice of … someone who's been there.
Try to take fall and spring hikes. Avoid the summer. Temperatures in the "deserts" of Utah can soar past 100 degrees F. in the summer.
Always try to get an updated and current report on road conditions leading to the trailhead. So many people run into problems on the drive in and out. Not on the hike itself.
Water. Almost always, you'll have to carry water in. Find out if there is fresh water along the way. If you're carrying in, plan on at least a gallon per day per person.
Never drink untreated water! Take in a good filtering system. A lot of good water bottles are available now with built-in filtering systems.
Plan for the sun. The sun's rays are more intense at altitude. Take a hat with a visor. And sunscreen.
Bring an effective brand of insect repellent. Life can be miserable in the wild areas of Utah without it.
Get advance current weather reports. In a lot of the canyon areas of Utah, flash floods are common. And deadly. Storms miles away have caused flash floods in canyons nowhere near the storm itself. And people have lost their lives because of it.
Plan for river crossings. You can line the interior of your pack with heavy-duty plastic bags. Even an inflatable mattress can work as a flotation device.
Let someone know exactly where you're going and when you are coming back. This simple move has saved many lives.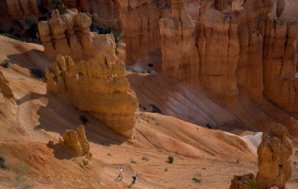 Following a Faint Trail
In rocky areas … or dry washes … trails can often fade or disappear completely. This usually shouldn't be a problem. Such sections tend to be short.
Look ahead at where you think the trail should be. Watch for cairns, paths through cut timber, or even trees with limbs knocked off them. Or look for blazes even though their use isn't considered environmentally-friendly any more.
A blaze … derived from the term trailblazing … is usually a painted marking of consistent shape. Often rectangular and consistent as well in dimension and color. They have historically favored the use of one single color often white, red, blue or yellow.
Another type of blaze can be plastic, metal or even wooden markers which are usually nailed to trees.
By planning ahead, you should be able to enjoy a safe and enjoyable desert hiking.



Back to top of Desert Hiking

Back to Hiking in Utah

Back to Home Page