Escalante Petrified Forest
State Park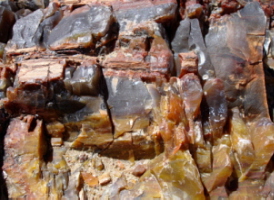 At Escalante Petrified Forest State Park, you can hike through a petrified forest.  Take all the photos you want but leave everything where it lies.
  
Escalante lets you see up, close, colorful deposits of wood and dinosaur bones mineralized over time.

The park is only 1.5 miles (2.41 km) from the lazy southern Utah town of Escalante. And it is located along State Route 12, one of the most scenic roads in America.
Within the park, Wide Hollow Reservoir … covering 130 acres … is a great place for camping, fishing, canoeing, and even kayaking.
Covering 1,350 acres, this state park is located at an elevation of 5,800 feet. And is open year-round.
Activities You Can Enjoy At The Park
boating
fishing
swimming
hiking
biking
OHV nearby
photography
watching wildlife
Facts About The Park
You'll find:
a visitor center
a 22-unit campground with 21 RV units
modern rest rooms with showers
a sanitary disposal station
an interpretive trail
a group pavilion
Fees And Hours
camping - $16
group camping - $50
day-use Fee - $6
Lake View RV campground is $20 with water and electric hookups.
annual passes are $75
The stay limit is 14 days.
Wide Hollow Reservoir Is Closed For 2010
The reservoir has been completely drained for dam reconstruction. Be aware that construction activity is going on 6 days a week 24 hours a day. A bit too annoying for my taste.
This will last from March 2010 through the spring of 2011. The campground and hiking trails remain open. But water activities ... boating, fishing, swimming ... won't return to normal until the spring of 2011.
Escalante Petrified Forest State Park
710 North Reservoir Road
Escalante, Utah 84726
435-826-4466



Back to top

Back to Utah State Parks

Back to Home Page