Goblin Valley Scout Leaders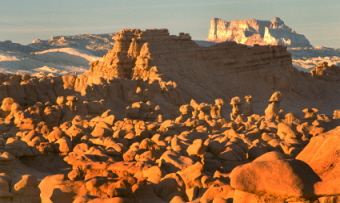 So when I read about the absolute stupidity … and totally wanton disregard for one of nature's wonders … involving the destruction by the now-famous Goblin Valley Scout Leaders, I have to just shake my head.

I understand what they did.  They destroyed something which has utterly amazed people from all over the world for years.  If you read my Goblin Valley State Park page, you'll read about the history of Goblin Valley. 

And you'll also read my comment that the formations were named a Utah state park in 1954 to protect them from the "stupidity and disregard of humans".

If you're one of the few people who hasn't heard the story.  Three guys destroyed one of Goblin Valley State Park's "goblins" by pushing it over.  And then claimed they did it to protect passers-by!

Then I read that these three guys were Boy Scout Leaders.  Really?   Now I can't tell if they were actually leading a group of highly impressionable young men when they decided to topple a formation estimated to be 200 million years old.

But in this state where the Mormon Church runs Scouting, I'm growing weary of reading about the stupidity of these supposed "leaders".
I understand that "someone" has to run these programs.  But maybe not these guys.  And guys like them.

Consider this quote by one of them … the cameraman.  "Some little kid was about to ready to walk down here and die and Glenn saved his life by getting the boulder out of the day.  So it's all about saving lives here at Goblin Valley."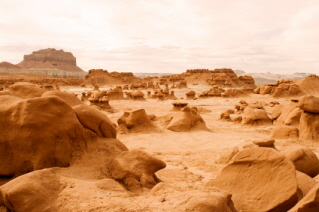 Whether there are felony charges laid against these idiots or not is another story.  As for the death threats against them being posted online, some people probably shouldn't have access to any kind of social media.

Wherever we go in the beautiful state of Utah, my family and I continue to be amazed at the absolute total disregard … and sheer stupidity ... of so many of the people that visit the places I talk about on my website.

And the ones who live here are the worst!  

Garbage, paper, wrappings, beer cans, soda pop cans, fishing line, human feces, old rusty automobiles and on and on.  It's everywhere.  It's disgusting and often leaves me angry in the middle of so much relaxing beauty.

And then I read about pinheads like this.  Unfortunately … living in Utah … I know people like this. 
In fact, these guys remind me of people I see every day.   There were even people who write letters to the editor of the local paper praising themfor what they did.

I'm not buying their apparent CYA excuse for doing what they did.  And I'm definitely not going to accept their reason for doing what they did.

And by the way, neither is the Boy Scouts of America.  Those Goblin Valley scout leaders were just removed from their leadership positions in the organization. 

And those possible felony charges?  Yet to be determined.
---
Want to Comment on This Subject?
Does this story upset you like it does me? Or do you think what these guys did was justified?

Share YOUR OPINION here. But be civil. I have no patience for those who make comments on sites just to pick a fight.

And I get to choose whether to include your comments or not. Your comments will be placed on a separate webpage on our website.

Sharing your comments is easy. Just type. They'll be available to you and visitors to this page any time!
Back to Goblin Valley State Park