Hogle Zoo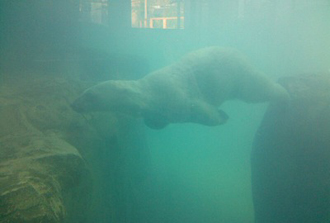 The Hogle Zoo in Salt Lake City … situated at the mouth of Emigration Canyon just south of the University of Utah … has undergone a startling transformation … for the better … since my family and I first started visiting years ago.

And this is especially true over the last decade. 

My wife and I have fond memories of taking our children there on a weekend day.  Spring, summer or fall.  And now even winter.
A great place to wander around and look at animals.  And people.  Sometimes equally interesting.

Simply the only way for people in this part of the world to see wild and exotic animals live and up close.  No matter what your opinion is about the conditions they're living in.  And regardless of the circumstances involving their residence.

It's situated in a refreshing tree-lined setting near the entry to one of the beautiful east side canyons leading into the Wasatch Mountains. 
Those trees offer cooling shade in the summer.  And enhance the layout of the various exhibits no matter what the season.
I think back to taking my youngest daughter there when she could barely walk while her older brother and sisters were at school.  Being in the trucking business, I worked a varied schedule back then.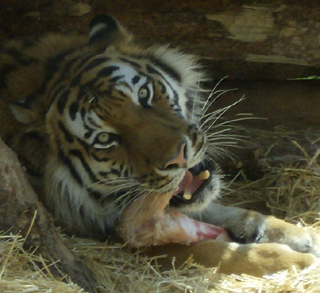 We would often visit during the middle of the day on week days.  Stopping at the same vending machine … in the big cat house … to buy a little bag of chips. 

It became a ritual.  She would walk up to the machine and stand in front of it.  I don't even know if she liked the chips.  But she sure loved going to the zoo.  

Walking through the pungent building housing the great felines was exciting but also somewhat sad.  The bare concrete ... uncomfortable-looking … cages were the permanent homes for lions, tigers, ocelots, leopards and other wild cats. 

And, of course, Shasta the liger.  A mounted specimen of the once-famous cross between a lion and a tiger.  She was "stuffed" as my kids called it.

Shasta was the result of the union between a male lion and female tiger.  Born in 1948, she quickly became the zoo's most popular animal.

Shasta died in 1972 long before we made our first visit.  The Shasta mount now resides in the Bean Life Science Museum at Brigham Young University in Provo.

I often looked at those great cats in those barred cages with concrete floors and wondered if they had ever known anything different.  Born in captivity or born in the wild? 
But now, those ugly cages have given way to beautiful new, roomy enclosures in a much more comfortable and natural setting.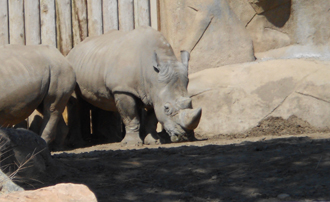 And long gone is the aromatic hippo enclosure.  Another ugly concrete building with a huge-headed beast sitting in water that looked like it needed to be changed.  Or just hanging out on the concrete. 

Moe … the Hogle Zoo hippo … resided here for 30 years.  But in 2005, Moe was moved to the Rio Grande Zoo in Albuquerque, New Mexico.  To mush plusher digs … designed specifically for a hippo … and a harem of two. 

Moe became a papa in 2006 in New Mexico.  And he just celebrated his 40th birthday this past year.  There was a special birthday party held at the Rio Grande Zoo for him.

My how things have changed … and for the better … at Hogle Zoo.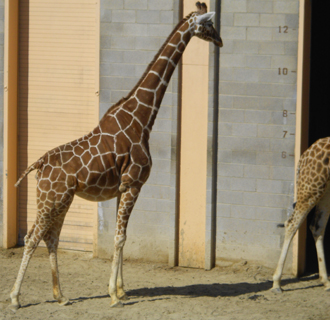 Some Interesting Hogle Zoo Facts

Located at the mouth of Emigration Canyon just south of the University of Utah
Opened in 1931.
The number one paid tourist attraction in Salt Lake City.
One of Utah's top attractions.
Covers 42 acres.
Over 800 animals to see.
Over 1,000,000 visitors walked through the gates in 2013.

Since my wife and I have been visiting the Hogle Zoo with our children … and now grandchildren … we've seen most of the improvements. 

Especially recently.  And some amazing traveling exhibits.  It's exciting to see the changes and think back to what some of the enclosures used to look like.
 The New Hogle Zoo 

To some people visiting the Hogle Zoo, their only experience of the zoo is what now exists.  But to me, so much of it has only been recently built.

The Asian Highlands – a depiction of a Himalayan village sheltering five species of Asian cat.  The layout is spectacular and looks like it's comfortable for the usually sleeping animals.      

The Elephant Encounter – housing African elephants and white rhinos.  My grandson loves staring at these huge creatures through the glass viewing area.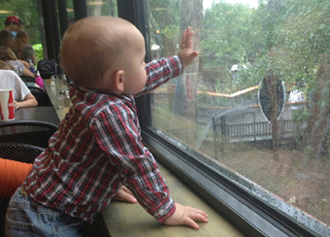 The Conservation Carousel – a real carousel holding hand-carved and exquisitely painted renditions of endangered or threatened animals.

Rocky Shores – the photos of the polar bear under water on this page were taken there.  View polar bears, sea lions, grizzly bears, harbor seals, and river otters in a modern "natural" setting up close.  Above and below water.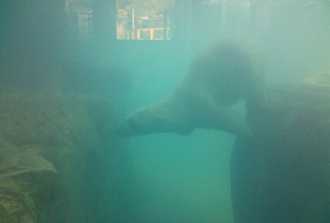 A beautiful new entrance and ticket booth.  Modern and well-designed to minimize standing in line.  

There are more attractions coming to the Hogle Zoo Salt Lake City.  African Savanna is set to open in the spring of 2014.  It'll bring African lions back to the zoo. 
Along with a home for giraffes, zebras, ostriches, and other African wildlife.  And a bigger, better miniature train returns with it.
Zoo Lights
Every Christmas season … from November 30 thru December 31, the zoo hosts a fantastic display of Christmas lights with an obviously zoo-themed Christmas light display. 

With over 250 animated light displays.  A relaxing … although chilly … way to enjoy the Christmas season on an evening with your family. 

We lucked out this past year … 2013 … as we enjoyed the light show on a clear, starlit and relatively warm evening the last weekend before Christmas.  The event seems to get better every year with new activities being added all the time. 

2013 was the 7th edition of Zoo Lights.  And 62,500 people came to see them this past year.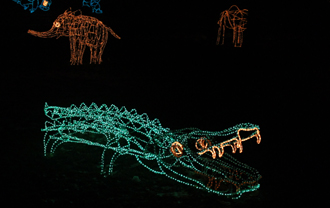 A million per year.
That's how many visitors come to the Hogle Zoo each year.  To be specific, 1,051,413 in 2013.  And the million visitor figure has been exceeded for four of the last five years since 2009. 
Each of the new exhibits seems to bring in another wave of new … and of course, long-time … visitors.  And the new African Savanna exhibit opening in 2014 will only add to the numbers. 

If you live in Salt Lake City … or visited last summer … you'll agree that it was a scorcher.  Record hot temperatures.  But still they showed up. 

Believe me, on many evenings and weekends, I found it easier to work and hang out in my shady back yard or stay indoors than go anywhere.    

Another attraction that pumps up the number of visitors is an almost yearly traveling exhibition.  From butterflies to Komodo Dragons to life-size dinosaur statues. 
They keep coming up with interesting features that draw visitors … new and old … like a magnet.

If you're looking for something fun to do with the family … or you simply like looking at animals … I highly recommend a visit to the newest version of the Hogle Zoo. 
And yearly family passes make it one of the best deals in the city.

The Hogle Zoo is located at:

2600 Sunnyside Avenue (840 South) in Salt Lake City.

Their contact phone number is 801-582-1631

The hours vary during the year.  It is open every day except Christmas and New Year's Day.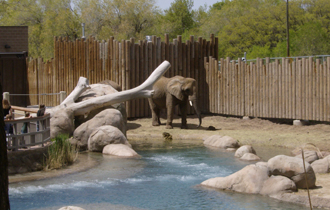 Parking

The zoo has a sizeable parking lot.  But on busy days, it tends to fill up quickly. 
Just across the street is a new overflow parking lot.  You can park in the spacious lot and walk a short distance across Sunnyside Avenue to the main gate.

Or you can park in the lot just off the road above the zoo.  There's lots of room there also.  With a separate gate entrance leading directly into the zoo from that lot.

For hours and more information, go to Hogle Zoo.
_____________________________________________________________

Have You Visited The Hogle Zoo?
What did you think of it? Are you a regular visitor?

Then you already know about a lot of what I've talked about on this page. Maybe you've never visited the zoo but want to tell a related story.

Telling your Hogle Zoo story … or sharing some of your photos … gives others the chance to experience a little bit more of what the zoo is like.

But the difference here is that:

• Your story will be placed on a separate webpage on our website.
• Sharing your story is FREE.
• It's as easy to do as typing your story or comments. And uploading your photos.
• It'll be available to you and visitors to this site any time!