Jordanelle State Park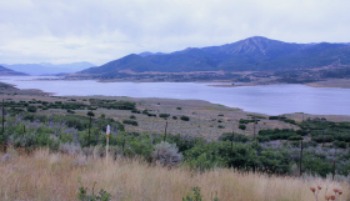 Jordanelle State Park … the result of building a huge dam on the Provo River above Heber … is a relatively recent addition to Utah's state park system.
In fact, it doesn't seem that many years ago when I was driving through the bottom of this canyon east of Park City on my way to the Uintas . Or to fish at Strawberry Reservoir .
Hence my dilemma. Do I tell about what this area used to look like? Or what it looks like now?
I remember ... not really that long ago ... the single lane ribbon of highway heading from Park City to Heber in the valley below. And the even narrower road following the meandering Provo River from Francis heading towards Heber.
There was no lake. And no park. It was beautiful. And peaceful.
Fantastic in fall with the cottonwoods lining the river. Fewer people then. Much less traffic.
But now ... with the double-lane divided highway skirting the mountainside overlooking the reservoir below ... we rarely even stop to look and enjoy the view.
But then, I wouldn't have another state park to write about, would I? And there's no doubt that more people than ever before are now able to enjoy the beauty of this area.
My favorite area in Utah ... Park City to Heber.
This scenic park opened June 29, 1995. Made up of two distinct recreation areas, it is now a year-round playground for water sports, camping, picnicking, fishing, boating, swimming, hiking and mountain biking.
And where acres of ranch land ... teeming with wildlife ... once existed. But multi-million dollar homes and developments ... replete with designer golf courses and out-of-this-world views ... have replaced that world. Allowing those who can afford it the opportunity to live and profit.
People Lovin' Life at Jordanelle
Jordanelle Reservoir ... depending on the year and the resulting snow-melt ... covers 3300 acres. And is located at an elevation of 6,200 feet. Anglers can fish for rainbow trout, cutthroat trout, brown trout, and smallmouth bass.
This is one of our more popular state parks. For one thing, it's so close to Salt Lake City and the Wasatch Front. And it offers such a wide array of recreation choices. The park is located along US-40 between Park City and Heber.
The park offers visitors two recreation areas … Hailstone and Rock Cliff. Hailstone is a sprawling developed campground and day-use area on the reservoir's west side. It's the playground for those who enjoy boating and water sports. This is where you'll find the boat and personal watercraft launch ramps, RV and tent camping, and full amenities.
In fact, if you're interested in fishing, you may need a
Utah boat rental. Jordanelle Rentals is a full service marina offering the best in boat rentals, boat fueling, pontoon rentals, moorings, and indoor boat storage.
The Rock Cliff Recreation Area is located by the southeast corner of the reservoir. You'll find fewer people and a quieter setting. It's a scenic spot along the Upper Provo River among the cottonwoods.
There's walk-in camping here. Along with a nature trail and a boardwalk. Don't bring your dog. Man's best friend isn't allowed at Rock Cliff.
It's a great spot for hiking, fishing, and bird watching. And a wonderful spot for launching a float tube or pontoon boat.
Near the entrance to the park on the Hailstone side, you'll find the Event Center. Sitting on top of a hill, it offers dramatic views of the reservoir. It's a great place to host weddings, meetings, or reunions.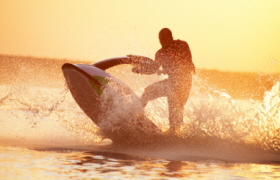 How Do You Get to Jordanelle State Park?
Jordanelle State Park is located just north of Heber. Heber is 35 miles east of Salt Lake City. To reach Hailstone, take US 40 to the Mayflower exit (#8).
To reach Rock Cliff, take US 40 to its junction with SR-32. Follow this road along the southeast rim of the reservoir for 7.5 miles. Turn left at the Rock cliff Road.
Park Hours And Fees
The main park is open year-round including holidays. During summer, the hours are from 6:00 a.m. until 10:00 p.m. In winter, from 8:00 a.m. until 5:00 p.m.
The Rock Cliff Nature Center is closed on Thanksgiving, Christmas and New Year's Day.
At Hailstone, day use is $10 per vehicle for up to 8 passengers. $5 per vehicle with a Utah senior (62+).
At Rock Cliff, the day use fee is $7 per vehicle. $4 per vehicle with a Utah senior (62+).
A $75 annual pass is available. Includes watercraft launches. A Senior Adventure Pass (annual) is $35.
The park has several campgrounds. One is hike-in or boat-in. Fees for camping run $16-$20. RV's up to 48' can be accommodated. With partial hookups available.
Facilities At a Glance
modern camping facilities
modern restrooms
RV hookups and dump station
showers
boat & watercraft launch ramp
boat slips
boat rental & fuel
food
picnic areas
hiking and walking trails
a visitor center
Jordanelle State Park
SR- 319 #515 Box 4
Heber City, UT 84032-0001
Hailstone: (435) 649-9540
Rock Cliff: (435) 782-3030




Back to top

Back to Utah State Parks

Back to Home Page