Markagunt High Plateau
Scenic Byway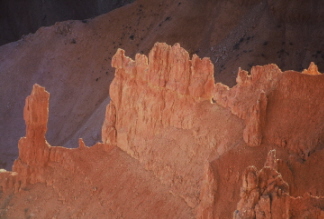 The Markagunt High Plateau Scenic Byway is one of southern Utah's busiest byways.  It takes SR-14 from Cedar City through Cedar Canyon and into the Dixie National Forest. The byway ends as it joins US-189 at Long Valley Junction.
Heading east from Cedar City, the byway slices through red-rock country for a few miles. Then through maple and oak forest. Followed by a steep climb up Ashdown Gorge Wilderness.
As you enter the Dixie National Forest, you'll see terrain which looks a little like Cedar Breaks National Monument . The byway skirts the edge of the Markagunt Plateau reaching an elevation of 9,900 feet.
At the top, it meets up with the Cedar Breaks Scenic Byway taking you to Cedar Breaks National Monument and Brian Head Ski & Summer Area. If you have time, you can easily drive both of these byways in less than half a day.
The Cedar Breaks Scenic Byway is only 6 miles long. Probably about 30 minutes to stop and see some of the sights. But I recommend taking longer and spending some time at the monument.
The byway continues on past Navajo Lake … a refreshing stop on a hot summer day down below. This is a great spot for camping, fishing, mountain biking, or even a quick dip. The water is cold though.
One of the lake's outlets is beautiful Cascade Falls. You can hike to it along the plateau's edge … about ½ mile. Other places you may be interest in checking out along the byway include Duck Creek Village, Strawberry Point and Mammoth Cave.
The byway covers 40 miles one way. Plan an hour or more.



Back to top

Back to Utah Scenic Byways

Back to Home Page