Dinosaur Diamond National Scenic Byway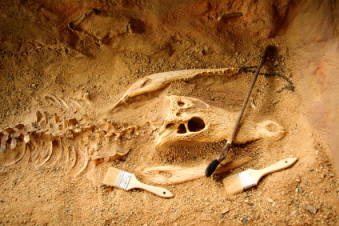 The Dinosaur Diamond National Scenic Byway is a diamond-shaped byway in eastern Utah and western Colorado. taking you to Dinosaur National Monument , the Utah Fieldhouse of Natural History, The College of Eastern Utah Prehistoric Museum and Cleveland-Lloyd Dinosaur Quarry.
This area is the home of Utah's world-famous "dinosaur country". Scientists,students, and visitors from all over the world come here to see ... and study ... what clues remain of these fascinating prehistoric creatures. The byway includes museums, active digs, and even rock art panels.
Dinosaur Diamond National Scenic Byway includes US Highways 40, 191, and 6. And Interstate 70 and Colorado State Highway 139.
You can start pretty much anywhere along the byway. You can start at the south end in Moab and head north along US-191 towards Price and Vernal. Or you can start at the north end and head south.
A number of other towns are found along the route. Castle Dale, Blanding, Monticello in Utah. And Dinosaur, Rangely, and Fruita in Colorado.
If you want to drive the entire byway, plan on at least a 10-hour drive. Or spread it out over three days to see the various sites along the way.

Back to top

Back to Utah Scenic Byways

Back to Home Page