World Record Elk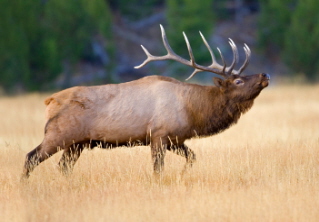 (not a photo of the World Record elk)


The title of World Record Elk is now held by a Utah bull. It became official in 2009. A Utah elk now holds the title for carrying the largest non-typical antler rack ever recorded.
The Boone and Crockett (B&C) Club officially recognizes the "Spider Bull" ... taken on Monroe Mountain in central Utah in September 2008 ... as the new world record for a non-typical bull elk.
The previous world record bull elk ... at 465 2/8 points ... was held by a bull found frozen in a lake in British Columbia, Canada in 1994. But this Utah bull blew that record away as it measured out at 478 5/8 points.
A hunter from Idaho … Denny Austad … took the bull on a guided hunt after two weeks of pursuit. But this record didn't come without controversy. Internet rumors … as they tend to … asserted alternate scenarios.
Claims that the bull had wandered away from an elk ranch or hunting preserve. But the biggest buzz ... as reported by Brett Prettyman of the Salt Lake Tribune ... came as a result of a state program which allowed this hunter to be awarded a $150,000 elk conservation permit to hunt anywhere in the state.
But what's the problem with this program? It's raised more than $17 million in the last 12 years. $2.9 million in 2008 alone. Funds a variety of Utah conservation projects. And this money isn't available anywhere else.
State authorities and B&C investigated this hunt. They verified that this world record elk was taken on public land. And was killed legally.
In fact, the animal industry division of the Utah Department of Agriculture stated they were confident it wasn't a farmed elk. Thus it qualifies as the world record elk.
Since no bull had ever been seen … let alone taken … on this mountain that even approached a 400" score, the healthy skepticism was understandable.
But those involved in the hunt which took this elk figured out quickly why it had survived so long. The only time they could catch a glimpse of this bull was in the few minutes before dark and just after first light. And then it disappeared.
There was quite an uproar after the details of this hunt came out. Even though they now grudgingly admit that this bull was a legally harvested free-ranging bull, many of the "skeptics" downplay this achievement because of the money … and the pro guides … involved.
Austad hired MossBack Guides … with outfitter Doyle Moss' team …to find, follow, and keep track of the bull. Jealousy? Probably. Sour grapes? You bet.
If a hunter without the means to pay for a hunt such as this lucks out and draws a tag in a limited entry trophy area, what usually happens? Friends, relatives, and wanna-be's typically get together and do these same kinds of things don't they? And offer the same kind of help.
What's the difference?
And what about the other hunters who had seen this bull and had the same chance?
Now, does a pro guide and outfitting service give a hunter an advantage? Sure it does.
But I agree that outfitting in the west has a long and honorable tradition. And most of the hunters voicing this criticism wouldn't hesitate to hire such an outfitter ... if they could afford one ... to harvest the world record bull elk.
The fact that Moss and his guides were paid for their services may have given Austad an advantage. But there's a long and healthy tradition of outfitting in the West. And Austad obviously didn't want to waste his money.
Would you?
What does this all mean? Quite simple really. When it comes to finding, hunting, photographing, or viewing monstrous bull elk sporting massive racks ... world record elk ... Utah is the place.



Back to top

Back to Elk Hunting In Utah

Back to Home Page