Ophir Utah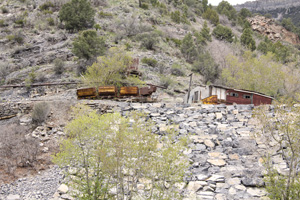 Ophir Utah is located 22 miles southeast of Tooele. Once a silver mining boom town, the town's population … at one time … eventually peaked at 6,000 people.
If you drive through it today, you wouldn't believe it once was a wild and crazy mining town with:
saloons
gambling
dance halls
hotels
brothels
cafes
stores
and boarding houses
Yes, they were all here. They all lined the narrow street at the canyon's base.
Ophir Utah was started as a mining camp in the 1860's. General Patrick Connor's soldiers discovered some rather primitive Indian silver mines. Some people think that's the reason the General brought his California volunteers to Utah.
Not to oversee the Mormon and Indian inhabitants and maintain order. But to open up … and profit from … the rumored mineral deposits throughout the territory.
As the soldiers were checking out settlements in Rush Valley … west of Ophir Utah … they discovered that some of the Indians were using homemade rifle slugs made of silver and lead. And they owned ornaments made of the same minerals.
In 1865, the General and his men discovered the source to be some crude mines … dug by the Indians … in East Canyon in the Oquirrh Mountains. The south end of the same mountains still being mined today at the Bingham Canyon Mine.
Some small-scale mining occurred until the big boom hit in 1870. A town sprung up. And the population exploded.
The name was coined by one of the Bible-reading prospectors. The land of Ophir … home of King Solomon's mine … inspired the town's name.
Within weeks, miners had taken more than $1 million in silver from the mine. By the end of the century, more than $13 million of silver had been dug from more than 3,000 claims.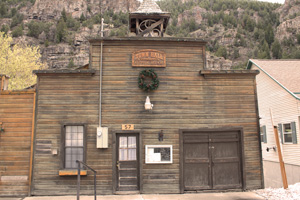 There was even a short-line railway built to link Ophir Utah with the major railroad lines. But eventually … like all such towns … the ore ran out. Ophir's population plummeted. But it never completely died.
The town was crazy while the ore lasted. Where prospectors and miners went, so did those who made their living off of them.
gamblers
prostitutes
teamsters
gunmen
even legitimate businessmen
It was an exciting time. Many of the strikes were rich ones. Resulting in some very colorful names:
Miner's Delight
Silveropolis
Wild Delirium
Shamrock
The ore was sent to various smelters. Connor's smelter in Stockton. E.T. City on the shores of the Great Salt Lake . Where it was taken across the lake to Corinne. Another of Connor's smelters.
The town eventually included:
the Pioneer Hotel
several busy livery stables
drug stores
general stores
theaters
two schools
a post office
a combination town hall and fire station
But if you drive into Ophir Utah today, you would find it hard to visualize those things ever existed here.
Lead, silver, and zinc were the main minerals taken from the Ophir Utah mines. Very little gold. Only $329,000 of gold to be exact. But ... by 1880 ... the boom was finished!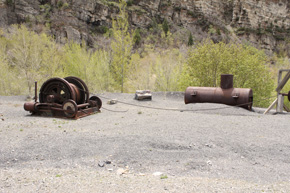 The boomers … and those who followed them … disappeared almost overnight. They left only about 50 people … some miners, a few families, and a couple merchants.
Over the years, this population has continued to rise and fall. But mainly fall.
Yet, even in 1918, Ophir Utah still had a post office, a weekly newspaper, a daily stage line, a general store, a railroad, and a population of 560. In 1970, a census discovered there were still 76 people in the town. Funny thing. Living residents could only come up with 50!
In 1971, the Ophir Hill mine was still producing. We know this as there was a fatality … the first one in 25 years … reported as a mining fatality.
You can get to Ophir Utah by heading south from Tooele on Highway 36. Take a left on Highway 73. Follow the signs.
You can also get there by taking Highway 73 west from Lehi in Utah County. Lehi is 18 miles south of the I-215/I-15 interchange in Salt Lake City.
Ophir Utah is a great example of a living ghost town. There are still a few old buildings lining the streets. Now shells. But not many. There are some new homes. A few new cabins. And quite a few RV's. I don't know why. There's even a nice little park.
My wife and I drove through it a few years ago. There seemed to be quite a bit more activity … and more new buildings … than the last time we were there more than 20 years ago.
I've been there several times. My wife and I … along with some of her relatives … drove there years ago in our jeep. The roads are paved all the way so you don't need to worry about that. In the lower parts of the canyon, the road is actually the old railroad bed.
Looking back in retrospect … especially with some of the stories about people being injured and killed in abandoned mines … we did something we wouldn't do now. We went into one of the abandoned mines. There was nothing to keep us out.
It was a memorable experience. The highlight was my father-in-law gashing his head open on a sharp rock. We encountered a seemingly bottomless mine shaft and turned around at that point. This was years ago.
We've read many of the stories since about the dangers of these mines. I wouldn't repeat the experience although it ended up being a good memory.
While driving home … without a top on our jeep … we got absolutely drenched from a torrential summer thunderstorm. My wife and I still laugh about it.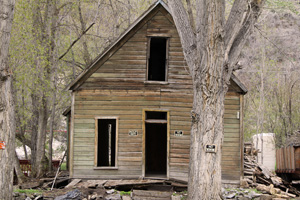 The canyon is ablaze in the fall with the box elder trees turning a bright yellow. A friend of mine took me hunting up there years ago.
I was so awed by the color display that I didn't even worry about the fact that we didn't see a single deer.
When I first got to Utah to attend the University of Utah, it was popular among some of my fellow football players to wear "Ophir State" hats.
I don't know where the idea came from. It wasn't until a decade later that I got to see the place that inspired them.
---
Have A Great Story About Ghost Towns in Utah?
Do you have a great story about ghost towns in Utah? Maybe a comment. Or a question? Please share it here!
What Other Visitors Have Said
Click below to see contributions from other visitors to this page...

Ophir, Utah Not rated yet
My Great grandfather Peter Mahnken came to Utah in 1860 and settled in Ophir, Utah, a rip roaring silver mining town south of Tooele. There he met …
Ophir Utah Experience Not rated yet
Hello. My name is Stephen Harr. I was doing research on Ophir for a screenplay I am developing when I found a valuable article on this website. I live …
Back to top

Back to Ghost Towns in Utah

Back to Home Page