Kayaking in Utah


Kayaking in Utah enables people … whatever age … to paddle a wide variety of waters either with a kayak, a canoe, or a raft.

Whether you enjoy the tranquility of a small Uintas lake. Or the adrenaline rush from challenging the angry whitewater of one of Utah's wild rivers. There's something for everyone.
In the northern part of the state, the Provo and Weber Rivers are well-known kayaking spots. As is the Great Salt Lake . There are even more opportunities in southern Utah. Day … or longer … trips on the Colorado River or Green River can offer a great escape.
Do you want to get a close-up view of Utah's amazing red rock country along with some of the state's ancient native rock art? If so, try the increasingly popular sport of sea kayaking on Lake Powell .
If you're comfortable with trusting your own skills and guiding yourself, it's a great way to go. Solitude and flexibility allow you to explore and answer to no one. For those new to the sport, professionally guided trips are available throughout the state.
The Colorado River … near Moab … offers exciting kayaking in Utah for all levels of expertise. For everyone from beginners … including small children … all the way up to experts. Whitewater paddling near the Fisher Towers … in a spectacular setting … also provides views of the La Sal Mountains.
For more challenging kayaking in Utah … at the expert level … the rapids in Cataract Canyon and Westwater Canyon can reach level IV during peak times. This area is not for beginners.
A number of river outfitters in Moab offer the complete package from guided trips to complete self-guided rental packages.
The Green River offers the opportunity to paddle flatwater and do some leisurely exploring. Stillwater Canyon and Labrynth Canyon are great for longer trips … 3 days or more. Enjoy some day hikes, exploring ancient ruins, and looking at rock art.
Desolation Canyon on the Green River has rapids up to Class III for more advanced kayakers. The San Juan River … nearby … offers Class II whitewater as well as the opportunity to explore some amazing archeological sites.
Any of the outfitters in Moab can help you plan such a trip.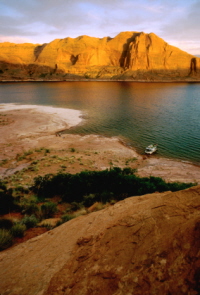 Lake Powell is gaining in popularity as a sea kayaking destination. The stunning landscape offers a wide variety of sights for kayakers and canoeists. The stunning man-made lake has so much to explore:
narrow canyons
secluded beaches
numerous ancient Anasazi ruins
clear, blue water
twisted gorges
sheer canyon walls
sandy streambeds
fragile waterfalls

Kayaking on Lake Powell
Rainbow Bridge National Monument and the Canyons of the Escalante can be explored with total peace, quiet, and solitude. A spectacular area to enjoy sea kayaking in Utah.
The Great Salt Lake … with over 10,000 miles of shoreline … offers kayakers some of the most enjoyable paddling in North America. They get to see things few other people ever get to see. The lake and its islands provide remarkable scenery only a half hour west of Salt Lake City.
Another fun area to explore is Jordanelle Reservoir ½ hour east of Salt Lake City. Jordanelle State Park has some wonderful scenic coves which will allow you to view the abundant waterfowl and wildlife.
If you enjoy peace and quiet along with fantastic scenery, kayak one … or more … of the many lakes in the Uinta Mountains . The terrain is as beautiful as any you'll find in North America. And equally as wild and dangerous.
Lying approximately 100 miles east of Salt Lake City, the Uintas are the highest range in the continental United States running east to west.
Of course there are many other lakes and rivers which provide wonderful kayaking in Utah.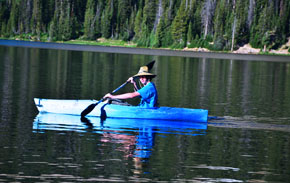 Rapid Classifications for Utah Rivers
Whitewater kayaking or rafting can be a dangerous endeavor if you don't know what to expect. That's why we now have standardized ratings for whitewater rapids. They are rated on a scale ranging from I to VI. The ratings are predicated on a combination of danger and difficulty.
Class I - the easiest. Few riffles and small waves. Minimal obstructions.
Class II - easy rapids with small waves. Clear channels with some maneuvering.
Class III - the rapids have irregular, high waves. Precise maneuvering is required due to narrow passages.
Class IV - long and difficult rapids with turbulent water. Narrow passages require intricate maneuvering. Scouting may be required due to difficulty reading the course.
Class V - long, raging, demanding rapids. Very congested channels requiring shoreline scouting. The hazards are real and possibly life-threatening in an accident. The absolute highest level possible in a commercial raft.
Class VI - extremely dangerous. Almost impossible. For experts in teams only. Life-threatening and not passable in a commercial raft.
Remember that this system is a guide only. And based on opinions. Water levels vary during the year changing the difficulty of the same water. It also doesn't account for the type of boat being paddled whether kayaks or rafts. And … of course … there will be varying levels of difficulty on the same river.
It is important you always talk to experts … professional guides … first before venturing into unknown waters. And remember that the difficulty level doesn't necessarily determine how much fun you'll have on a water while kayaking in Utah.
Colorado River
Westwater – Class III-IV. 1-3 days.
Fisher Towers – Class I-III. ½-1 day.
Cataract – Class III-V. 1-7 days.
Northern Green River
Little Hole – Class III. ½-1 day.
Lodore – Class II-IV. 3-4 days.
Split Mountain – Class II-III. ½-1 day.
Desolation – Class II-III. 3-6 days.
Southern Green River
Green River Daily – Class II. ½-1 day.
Labryinth – Class I. 3-8 days.
Stillwater – Class I. 3-8 days.
White River – Class I. 3-4 days.
Other Utah Rivers
Dolores River – Class III-IV. 3-5 days.
San Juan River – Class II-III. 2-7 days.
Yampa River – Class III-IV. 2-7 days.
You can also enjoy short river trips on the Sevier River, the Virgin River below Zion National Park , the Provo River, and the Weber River.
If you're inexperienced and not familiar with a particular water, contact one of the many professional outfitters throughout the state for more information on kayaking in Utah. They can take you on an adventure you'll never forget.
---
Have A Great Story About Ghost Towns in Utah?
Do you have a great story about ghost towns in Utah? Maybe a comment. Or a question? Please share it here!
Back to top

Back to Best in Utah

Back to Home Page