Utah Ski Resorts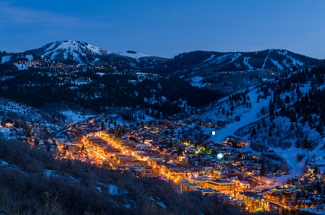 There are 14 Utah ski resorts . If you want to read more about skiing in Utah, go to my skiing in Utah page.
When your flight lands at Salt Lake International Airport, you're less than an hour drive from 11 world-class ski resorts.
14 total in Utah.
7 within 30-45 minutes.
4 of them actually on the Salt Lake City public bus route.
And world-class resorts. Last year, Deer Valley was just named the #1 Resort in North America! Park City Mountain Resort was ranked #5 by the same Ski Magazine survey.
Salt Lake City International Airport … located minutes west of the city … hosts 13 major airlines. And more than 900 flights fly in and out each day!
No matter what part of the country you're coming from, Utah's powder is close enough that you'll be skiing that day.
Since the airport is so close to first-class resorts, you can add a day or two of skiing time to your vacation. The drive time is short. And it's just as easy to get out as it is to get in.
Utah has out-grown its reputation … among those who haven't been here … as being a dry state. Without a night life. There's plenty of night-life to go around.
Just visit downtown Park City on any winter night ... and summer for that matter … and you'll realize there's a wide variety of choices to suit just about anybody's idea of fun.
But why have professionals from LA to New York decided to move here and take a low-paying job so they can ski every day? And what causes millionaire business people to travel the world to earn their fortune. Then return home to Park City to live and play?
It's the powder folks. Alta and Snowbird have finished right at the top in a Ski Magazine survey for "Best Powder".
Utah's ski resorts are grouped in three geographic areas. The Northern Wasatch. The Southern Wasatch. And Southern Utah.
As you'll learn by clicking on any of the links below, there's a skiing vacation for every type of skier. And budget.


Utah Ski Resorts