Fall Leaves In Utah

An Autumn Color Explosion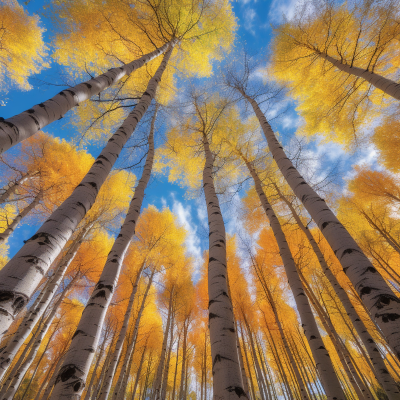 It's no secret especially if you've visited this site before that Utah is dazzling in any season.  At least parts of it are depending on what season it is.  Yet there is something incredibly remarkable about the entire state when it comes to autumn.
The landscape transforms into a vibrant tapestry of red, orange, yellow and gold and various shades thereof.  It is as if each leaf is trying to outdo the other with their color display.  Fall leaves in Utah are indeed a spectacle to behold.
Imagine … or even better see for yourself … these multihued tapestries of nature bordering tranquil lakes, meandering rivers, sweeping valleys and majestic mountain ranges.  It is a true feast for the eyes.  And your spirit.
From mid-September to mid-October, the leaves in Utah undergo their annual transformation to reveal a stunning visual treat.  It is an event eagerly anticipated by outdoor enthusiasts and casual observers alike.
This year … in 2023 … thanks to an unseasonably wet and extended winter, the leaf transformation has been delayed offering a unique chance to watch the spectacle unfold until even later in the fall.

So, where should you go to view the most thrilling displays of fall leaves in Utah?  The choices are pretty-much statewide.  From the Wasatch Mountain range east of Salt Lake City to the jaw-dropping panoramas in Southern Utah, there is ample opportunity to immerse yourself in this seasonal spectacle.
It is no surprise that an autumn road trip to view fall leaves in Utah offers … especially with today's smartphone cameras … countless remarkable photographic opportunities.  But to witness this spectacle in its peak glory, timing is crucial. 
Meteorology plays a significant role and each year the colors peak at different times.  As mentioned above, mid-September to mid-October is generally the best time to catch the colors in full display.  The colorful extravaganza starts in the north and cascades southward through the state.
We observed something interesting this past weekend.  The leaves on the mountains on the east side of the Salt Lake Valley had changed to a brilliant mix of reds north of the Big Cottonwood Canyon road. 
As we drove south along Wasatch Boulevard, the colors became less intense to where, by the time we hit Draper, they had barely started turning.  There were discrepancies right in the middle of the Salt Lake Valley.  Hard to time that.  That will change in the next few days.

One of the first candidates for experiencing Utah's fall grandeur is Big Cottonwood Canyon.  The road to Brighton and then over Guardsman Pass (as a side trip) is reasonably close to the city and as beautiful as anywhere. 
In fact, many of the photos on this page are from that canyon and down the Guardsman side.  The soaring aspen and maple trees blaze into a fiery spectacle of autumn hues.  The breathtaking panoramas are worth every moment spent and every photograph taken.
Visiting Little Cottonwood Canyon in late September is usually a good bet.  As an added plus, some of these weekends often coincide with Snowbird Resort's annual Oktoberfest guaranteeing a blend of seasonal brews, traditional tunes and an interesting mix of people. 

For those who yearn for a grand autumn spectacle alongside a natural landmark, the Bryce Canyon National Park area is a must-visit.  It is not the leaf spectacle alone but their tonal contrast against the park's unique red rock spires and horseshoe-shaped amphitheaters that makes this spectacle so special.

The Nebo Loop Scenic Byway offers another unique experience.  An autumn drive along this route reveals a parade of colors thanks to the variety of tree species each welcoming the season in their distinctive way.  As you zigzag along the Byway, you get to enjoy panoramic views and the towering majesty of the Wasatch Range's highest peak.

Continuing with scenic drives, the Alpine Loop doesn't disappoint.  This pass snakes its way through the rugged beauty of the Uinta-Wasatch-Cache National Forest.  It offers nature lovers a breathtaking panorama interlaced with shimmering lakes, towering mountain backdrops and a blend of contrasting fall colors. 
You can take a little side trip over to Cascade Springs and then down past Sundance Mountain Resort to complete this loop if you start at the American Fork side.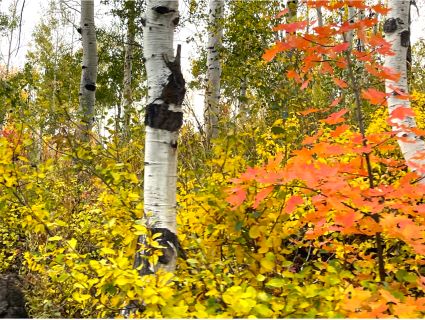 Not to be outdone, Butterfield Canyon … west of Salt Lake City through the Oquirrhs … offers a unique leaf-viewing experience.  Though lesser-known and certainly much less traveled, this winding drive through from Herriman over to Tooele reveals a hidden symphony of colors crawling up rocky hills and spilling down steep canyon walls.

Another busy canyon (usually with the presence of cyclists) is driving east from the Hogle Zoo on Sunnyside Avenue through Emigration Canyon.  Known for its historical significance, the canyon adds a wonderful splash of seasonal colors to the mix in fall making it a worthwhile drive. 
When you get to the top, you can continue on up to East Canyon or head over to I-80 and back to the city.  Venturing through East Canyon during the fall is like driving through a warm, living waterfall of thousands of brightly colored leaves. 
This canyon is accessed from either Emigration Canyon or from I-80 below Mountain Dell Golf Course via State Highway 65 (East Canyon Road).  The winding road presents you with overwhelming scenery at times in close proximity to your vehicle.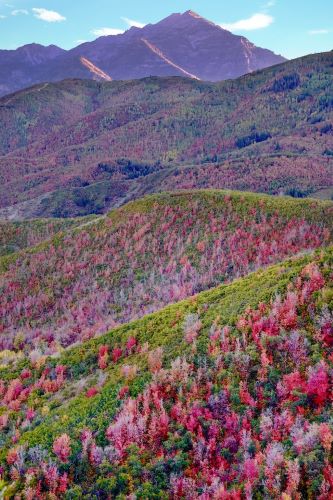 Millcreek Canyon provides another memorable drive during the autumn season just east from Salt Lake City near 3900 South.  Peppered with bright fall colors, the canyon also presents a perfect opportunity for hiking and photography. 
Many of the trees are real close to the road so this is a little different experience.  There is a fee to access this canyon and it has been well worth it.  Much of the money has been used to upgrade the road, campgrounds and camping areas as well as keep the canyon from being trashed.

Throw in a longer but leisurely drive up Mirror Lake Scenic Byway and you're in for one of nature's most dramatic autumn displays.  This area turns color earlier and cools off quickly in fall so be ready for any kind of weather. 
The aspens are especially awesome up here.  There are also numerous lakes along this byway that are uncrowded after Labor Day and waiting for a fly line.
Heading towards Utah County, you have several options.  The Alpine Loop and Spanish Fork Canyon both vie for your time as the fall colors in both areas are stunning.  Alpine Loop is discussed above. 
Provo Canyon is also beautiful but I've found it to be not quite as delightful as the other two.  The harmony of colors in Provo Canyon is uplifting, though, as contrasting hues are framed nicely by the dramatic cliff faces.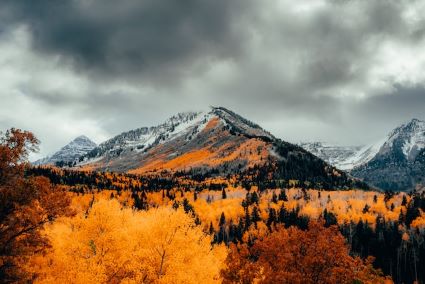 Utah's Highway 40, stretching from Heber to Strawberry Reservoir, provides a feast of colors that is impressively consistent.  Here, aspens dominate the landscape interspersed with the reds of other vegetation. 
Aspens always change later than the maples so … in most of these areas … you'll see the reds first and then the golds and yellows later.  Highway 40 between Park City and Heber offers a lot of reds but this particular stretch seems to turn earlier than many of the other areas.
Rounding off the scenic drives, Sardine Canyon … between Brigham City and Logan … reveals the softer side of autumn with its trees changing from green to gold to crimson painting beautiful hues along winding roads and rolling hills.
The steady climb up Logan Canyon gradually exposes the observer to an ever-changing elevation with each level offering a unique display of fall colors.  The abundance and variety of trees along this route ensure a full-color spectrum awaits.

To capture the perfect fall foliage photographs, timing is of the essence.  Typically, the magic of fall leaves in Utah reaches its zenith from mid-September to mid-October.  However, the exact timing of the peak colors will slightly vary between locations due to diverse elevations and weather patterns.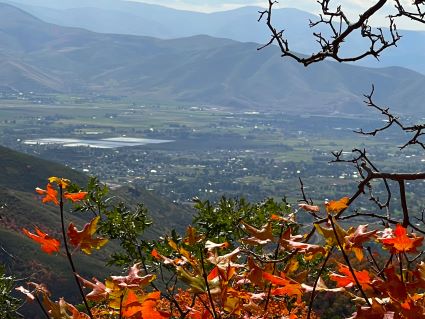 For instance, Big Cottonwood Canyon usually showcases its peak colors in late September.  Around the same time, the Alpine Loop, Butterfield Canyon and Emigration Canyon also stand donned in their autumn best.

As elevation affects leaf turn times and the fact that aspens turn later, East Canyon, Millcreek Canyon and Mirror Lake Scenic Byway usually hit their color peaks just a little bit later.

Bryce Canyon National Park, due to its significant altitude variances and southern latitude, generally displays a later color change with peak colors seen in the first two weeks of October.  The Nebo Loop Scenic Byway and Skyline Drive down to Salina (4-wheel drive needed) follow a similar pattern.

Highway 40 from Heber to Strawberry Reservoir, Logan Canyon and Sardine Canyon, due to their unique conditions and the prevalence of aspens, see colors peak around mid-September to early October.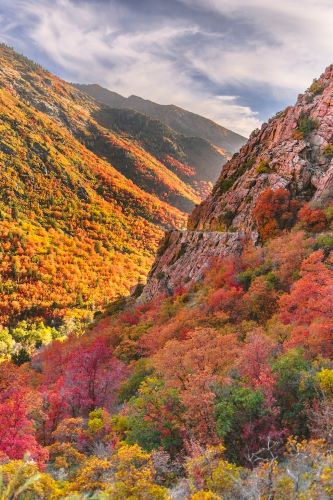 Despite trying to assign an agenda for when these various scenic drives are at their finest, it is best to remember that fall leaves are on their own schedule.  Depending on weather conditions or anomalies like this year, the "peak time" window may shift unpredictably. Hence, indulging in Utah's autumn spectacle is as much about chance as careful planning.

As the fall foliage in Utah attracts sizeable crowds, you might want to make plans to avoid the rush.  Opting for early morning drives or weekday jaunts will often result in more solitary experiences. 
Almost all of these drives are less crowded during the early hours of the morning and on weekdays.  Regardless, the charm of fall leaves in Utah is best appreciated when observed respectfully ensuring the natural beauty is unmolested and preserved for future generations. 
As admirers of nature's art, it remains our responsibility to leave No Trace of our visit beyond memories and photographs.  Treasure and protect these places as much as they amaze and console us.

Bearing all this in mind, with a smartphone for navigation and photos, you're equipped with all the information you need to embark on an amazing journey through Utah's fall leaves.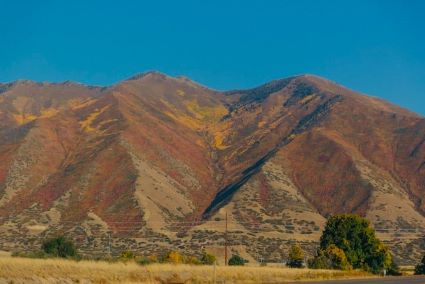 Remember, though, that smartphones don't always work in all of these places (cell towers aren't on every mountaintop) so look at your planned route ahead of time.  From the amazing spectacle of autumnal hues to the joy of relaxed picturesque drives, your fall adventures promise to be memorable events.

In conclusion, experiencing fall leaves in Utah offers more than a simple autumn outing.  It is a journey filled with stirring landscapes and relaxing drives. 
Whether you're a seasoned leaf enthusiast or a fall foliage novice, the vibrant display of colors will leave you in awe.  And will make your fall travels a sensory feast that remain etched in your memory long after the snowflakes have started flying.
---
Have A Great Story About Fall Leaves in Utah?
Do you have a great story about Utah fall leaves? Share it!
What Other Visitors Have Said
Click below to see contributions from other visitors to this page...